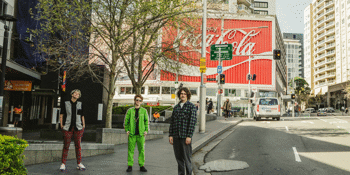 Great Southern Nights in association with The Music & Booze Company Presents
SCABZ
With Special Guest
Miranda Hotel (Miranda, NSW)
Thursday, 19 November 2020 6:00 pm
Newtown's self-proclaimed shittest band are a driving force behind Australia's punk scene. Over the past 12 months SCABZ have toured relentlessly, joining Skeggs on the 'My Own Mess' tour in between their own mammoth regional jaunts for singles 'Starting Line' and 'Brett Lee's Got No I.D (And He Can't Get Into World Bar).'
SCABZ are just as comfortable heckling old mates at a country pub as they are at a festival. With standout appearances at Yours And Owls, Pool House Party, Mountain Sounds (rip) Festival of the Sun and Bad Friday proving they can be politically charged, grating and funny as ever regardless of the stage.
SCABZ provide direct and unapologetic protest in the Mike Baird-defying 'Locked Out' next to cowbell-doused tales of chasing tipsy smooches in 'Beach Song' with ease. Their newer releases are a testament to SCABZ technical and expressive growth. With guitarist and vocalist Siobhan Poynton's increasingly thrilling style of guitar playing; SCABZ are closing in on a full, reckless and energetic sound that no other act in Australia can match.

Playing an early and late session at the Miranda Hotel on Thurs 19th November with special guests!

Great Southern Nights is a new event to kick-start the recovery of the live music industry - featuring 1000 COVID safe gigs across Sydney and regional NSW, throughout November 2020 (Australian Music Month). Great Southern Nights is a NSW Government initiative, delivered by Destination NSW in partnership with ARIA. For more information, please visit greatsouthernnights.com.au

TICKETING INFO
This is an 18+ event.
Do not attend if you are feeling unwell.
Shows will be seated and limited to 50 per sitting, patrons will be seated to allow for social distancing.

Artists to perform two separate sittings, 6.00pm - 8.30pm & 9.30pm - 12.00am.
Tickets will need to be pre-purchased, no door sales will be available on the night.

Minimum x2 tickets per transaction so we can keep the full capacity properly distanced.
Please adhere to social distancing at all times and follow direction from venue staff.

The venue will be taking a number of precautionary measures to ensure patron safety, including:
- Hand sanitiser dispensers
- Signage and social distancing markers throughout the venue
- Regular sanitising of the venue and full clean between sittings

PLEASE NOTE THE FOLLOWING:
Once purchased tickets are non-refundable & non-transferable
Please note: tables cannot be joined together on the evening. Please ensure everyone you wish to seat at your table is included in your booking to avoid being seated separately.