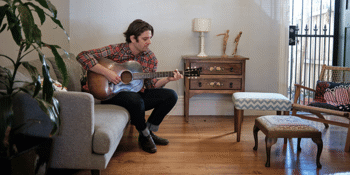 Callum Wylie - Late Show
with Charlie Finn
The Chippo Hotel (Chippendale, NSW)
Saturday, 31 October 2020 9:30 pm
After touring and performing successfully behind his previous two EPs (Tomorrows Sun 2016 & Listen 2019) Callum is showing his maturity as an artist with his upcoming album, ready to widen his audience taking this record to the masses. Written over several years and recorded over 12 months, Callum Wylie's debut album spans a multitude of emotions, taking the listener in further with each track. The bedrock of the record was conceived on a formative trip to the United States in 2016 taking Wylie from Seattle to LA, to the middle of the desert in Marfa, TX and finally ending with 10 days holed up in Clinton Hill, Brooklyn. As the songs began to take shape over the years producer, engineer and collaborator of Callums, Andrew Beck saw a vision for a full band backing the songs akin to the music of Wylie's Americana contemporaries such as Chris Stapleton and Jason Isbell. The record is a mixture of live to tape recordings at Sydney's Golden Retriever Studios and over dubs at Beck's Riversong Studios on The NSW Central Coast. The album is equal parts warm and gritty. No stone was left unturned and as a result,Callum Wylie's debut is the best representation of him as an artist yet, powerful, honest and introspective. The second single 'Washington To West Texas' is an ode to that trip and the open roads that were traversed.
TICKETING INFO
- Do not attend if you are feeling unwell
- Shows will be seated and limited to 25 per sitting, patrons will be seated to allow for social distancing. There will be select seating in accordance with the venue's Covid Safe Plan with a 1.5m distance between groups. Guests must be seated at all times of the show unless moving from one section of the venue to another - i.e the bar, toilet, smoking area etc. There is to be no standing and mingling among guests especially between different groups and alcohol can only be consumed by seated customers.
- Artists to perform two separate sittings, 6:30pm & 9:30pm
- Upstairs kitchen will be open and running a $15.00 burger + schooner of beer or cider deal for those who have purchased a ticket to the show. Present your ticket to the bar staff when ordering to redeem.
- Tickets will need to be pre-purchased due to Covid -19 capacity restrictions and select seating arrangements enforced by the venue in order to comply with Covid safety measures and to ensure guests are protected and are as safe as possible at all times. All customers entering the premise must sign-in by providing accurate contact details via the venue's QR code sign in registry at the entrance of the venue which is designed specifically for contact tracing if necessary.
- Tickets will need to be purchased as a minimum of 2 pax to assist with venue seating plans and if you wish to be seated in a group with friends who have purchased tickets separately you will need to email the names of your group to hello@thechippohotel.com.au
NOTE: Groups cannot exceed 10 people.
The venue will be taking a number of precautionary measures to ensure patron safety, including:
- Hand sanitiser dispensers on entry and at tables
- Signage and social distancing markers throughout the venue
- Regular sanitising of the venue and full clean between sittings