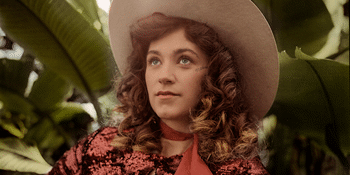 LOVE POLICE PRESENTS
SIERRA FERRELL BAND
With JONNY FRITZ
The Great Club (Marrickville, NSW)
Friday, 7 October 2022 8:00 pm
On the back of her long-awaited and much acclaimed Rounder Records debut album "Long Time Coming" , the amazing Sierra Ferrell returns to Australia and is bringing her band with her for the first time. With her spellbinding voice and time-bending sensibilities, Sierra Ferrell makes music that's as fantastically vagabond as the artist herself. Growing up in small-town West Virginia, the singer/songwriter/multi-instrumentalist left home in her early 20s to journey across the country with a troupe of nomadic musicians, playing everywhere from truck stops to alleyways to freight-train boxcars speeding down the railroad tracks before finally settling down in Nashville.
Described by NPR in the US as someone who "sings with abandon, with a huge repertoire that spans jazz, country and cowboy music, with undertones of the blues," Sierra first appeared in Australia at the Out On The Weekend festival, has toured with C.W. Stoneking and is the next big name in American roots music and old time country. She is the real deal; a drop dead stunning singer and songwriter and an absolute charmer who will leave you bewitched and bewildered as you wonder how a young woman of such incredible talent is not a superstar already.

Doors Open 8PM
Thirsty? Our front bar opens at 6pm for a pre-show beverage!
Enter Yia Yia's Dive Bar via 42 Stanley Street.