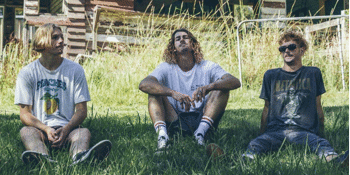 Los Scallywaggs - Late Show
with Fungas
Waywards (The Bank Hotel) (Newtown, NSW)
Saturday, 19 December 2020 9:30 pm
In their short but solid career garage fuzz trio LOS SCALLYWAGGS have formed a prominent reputation as an eccentric and energetic live act through their fuzzed-out guitar and punchy drums. Hailing from the mid north coast, the band includes brothers Joel (vocals/guitar) and Nat Tyrrell (drums) and Dale Smith (Bass).
The band has toured extensively, booking headline shows in Australia, UK and Europe as well as touring beside rowdy acts such as SKEGSS, DZ DEATHRAYS and HOCKEY DAD as well as international acts HOLY WAVE and TIJUANA PANTHERS. If there's one thing they know how to do, it's turning a crowd to paste. This live energy is what their most recent LP Smile Stranger aimed to capture, a rapturous 40-minute collection of breakneck tunes built to push heart rates to dangerous levels.
The band decided to take a left turn sonically away from the in your face – beer blooded fuzz on their new EP We're All Mad Here. Instead showcasing a fresh taste on garage rock n' roll music with slower songs but further dynamic sounds. Also, a new flavour in their live sets now including additional guitarist/percussionist and organ player. Their first show back since the pandemic saw a quick sold out show in Newcastle NOW the lads are ready to make a return to Sydney. Don't miss out on this one!
TICKETING INFO
- Do not attend if you are feeling unwell
- All audience members will be required to sanitise & check-in upon entry to Waywards.
- Shows will be seated (1.5m apart) and limited to 50 per sitting to allow for social distancing.
- All seats & tables will be wiped down & sanitised between show sessions/sittings.
- Guests must be seated at all times of the show unless moving from one section of the venue to another - i.e toilet, smoking area etc. There is to be no standing and mingling among guests especially between different groups and alcohol can only be consumed by seated customers.
- Drinks can only be ordered through ME&U table service, no need to head to the bar! All tables will have their own ME&U beacon where guests can scan a QR code to view the drinks menu, order & pay as drinks are brought to them.
- Artist to perform two separate sittings, 6:30pm & 9:30pm
- Due to venue seating layout, tickets are only able to be purchased in groups of 2 or 4 (subject to availability for both)
- Patrons are to promptly leave once the shows have finished to ensure staff are able to sanitise and wipe down all surfaces before the next show.
The venue will be taking a number of precautionary measures to ensure patron safety, including:
- Hand sanitiser dispensers on entry and at tables
- Signage and social distancing markers throughout the venue
- Regular sanitising of the venue and full clean between sittings