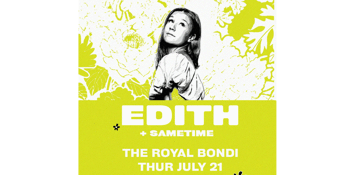 The Music and Booze Co presents
Edith + Sametime
The Royal Bondi (Bondi, NSW)
Thursday, 21 July 2022 8:00 pm
The Music and Booze Co presents...
Edith + Sametime | The Royal Bondi
Thursday 21 July
Free Entry, 8pm

Edith
18. From Sydney. Writing songs from my bedroom. Can't dance.

Sametime
Sunshine Coast brothers Tim and Sam Aitken learned their instinctive 'Pop logic' from the streets. Despite their years (Tim, 22 and Sam, 19) they have spent the last 10 years developing a reputation as one of the Sunny Coast`s hardest working acts.