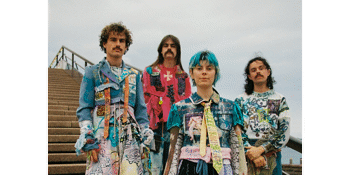 The Music and Booze Co presents
Poolroom.
with special guests Julian Munyard
Vic on The Park Hotel (Marrickville, NSW)
Friday, 8 July 2022 9:00 pm
The Music and Booze Co presents...
Poolroom. + Julian Munyard
Live at the Vic On The Park Hotel
Friday July 8
Free Entry, 9pm

A new chapter arrives for Poolroom.
After years playing on stages alone, the Sydney based artist welcomes 3 musicians to form a live band for an exciting new stage show.
The group consists of: Ella Mosley (hot goblin, Fairweather) on keys; Lewis Mosley (Georgia June, Noodle House) on bass, and Jack Kinder (Noodle House) on drums with Charlie Waldren on lead vocal + guitar.
Whilst remaining a solo recording project, this live band signals the introduction of a new era for Poolroom., with a body of unheard music arriving imminently in early 2022.
Julian Munyard's music is infectious, upbeat and a lot of fun to listen to. Jules clearly has his "eye on the prize" and plans to take it to the top with original creative lyrics, and well-produced music.