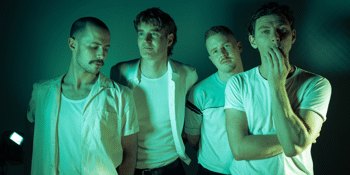 Village Sounds & Tiny Monster presents
Mid City - Late Show
with Special Guests
The Chippo Hotel (Chippendale, NSW)
Saturday, 13 February 2021 9:30 PM
Melbourne Indie-Rockers MID CITY are excited to announce a national tour in celebration of the release of their much anticipated sophomore EP Wishing For The Best, a body of work that flourishes in a narrative landscape that explores the human condition in all its beauty and imperfections.
The band has built its foundation on monstrous, uplifting choruses and melodies, and is the result of a strong partnership between chief songwriters Joel Griffith and Ben Woodmason.
"I trust him more in his vision for things, because of the time we've spent together," Joel says.
"I think that self-assuredness is what we're trying to get to come through in the songs, but it's a reflection of that maturing. The longer we go, the more I'm appreciating that everybody starts to believe in themselves, believe in the band and believe in each other. The best music comes from that."
Wishing For The Best is MID CITY at their most furious, most eager and at a particular peak of the band's powers. Anthemic energy is at its core, starting from record opener 'Liar Liar', reaching numerous peaks throughout before wrapping tightly with its closer, 'You Can't Know Why'. It is an EP that perfectly encapsulates the band's thrill for live performance and with 2020 putting everyone into a forced period of retreat, it has simply reinstilled the love for music that has driven Mid City since their inception.
Joel speaks of the band's excitement to be touring again and says, "never in the history of up-start rock n roll bands has a group of people been this excited to get back to what they do best. One year away is an eternity in music and we indeed to make up for every second of lost time with all the blood, sweat and happy tears we can muster."
MID CITY will bring lead singles 'Liar Liar' and 'Good For It' to the live stage in Jan/Feb next year, after the tracks have already brought waves of acclaim from Australian and international media alike including triple j, BBC Radio 1, Rolling Stone Australia, NME, Earmilk and saw MID CITY continue to develop their international fan base with the track being featured by Jack Saunders on BBC Radio 1 and topping the German College Radio charts.
TICKETING INFO
- Do not attend if you are feeling unwell
- Shows will be seated and limited to 30 per sitting, patrons will be seated to allow for social distancing. There will be select seating in accordance with the venue's Covid Safe Plan with a 1.5m distance between groups. Guests must be seated at all times of the show unless moving from one section of the venue to another - i.e the bar, toilet, smoking area etc. There is to be no standing and mingling among guests especially between different groups and alcohol can only be consumed by seated customers.
- Artist to perform two separate sittings, 6:30pm & 9:30pm
- Upstairs kitchen will be open and running a $15.00 burger + schooner of beer or cider deal for those who have purchased a ticket to the show. Present your ticket to the bar staff when ordering to redeem.
- Tickets will need to be pre-purchased due to Covid -19 capacity restrictions and select seating arrangements enforced by the venue in order to comply with Covid safety measures and to ensure guests are protected and are as safe as possible at all times. All customers entering the premise must sign-in by providing accurate contact details via the venue's QR code sign in registry at the entrance of the venue which is designed specifically for contact tracing if necessary.
- Tickets will need to be purchased as a minimum of 2 pax to assist with venue seating plans and if you wish to be seated in a group with friends who have purchased tickets separately you will need to email the names of your group to hello@thechippohotel.com.au
NOTE: Groups cannot exceed 10 people.
The venue will be taking a number of precautionary measures to ensure patron safety, including:
- Hand sanitiser dispensers on entry and at tables
- Signage and social distancing markers throughout the venue
- Regular sanitising of the venue and full clean between sittings