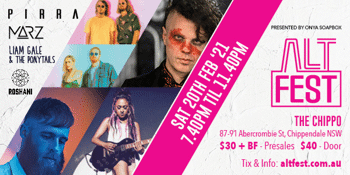 Onya Soapbox presents
ALTFEST
Featuring Pirra + Marz + Liam Gail & The Ponytails + Roshani
The Chippo Hotel (Chippendale, NSW)
Saturday, 20 February 2021 7:45 pm
Altfest is a celebration of alternative and diverse music at its best. Delivering artists who don't subscribe to being defined by a single genre of music – instead blurring and pushing artistic and creative boundaries.

At The Chippo on Sat 20th Feb catch this amazing 2020 Altfest line-up:
PIRRA
The Pirra sound is a unique genre bending blend of slinky electro, new wave and dance mixed with indie pop rock stylings. Their lyrics combine cutting and funny observations of life and love in the modern world. Pirra's live sound is a mix of live instrumentation (guitars, drums, vocals and bass) combined with washes of synth and programmed sounds to make a rich, catchy and seductive blend of modern pop. Their latest single 'The Peak' is an indie-electro banger interweaving melodic based leads with majestic synth lines and sultry vocals from lead singer Jess, showing a big evolution for the Sydney quartet.

"When Pirra demand you dance, you damned well dance."
- Triple J
www.pirramusic.com
www.facebook.com/pirramusic


MARZ
Stealing the jagged hooks of rock, indie and the cheap thrill of pop, Marz meditates on ideas as varied as the paranoia of the city and also the distance that can develop between people that were once very close. Delivering a taut, focused and sinewy rock sound devoid of excess, MARZ draws on rock royalty like The Angels and AC/DC but tempers this with melodic flourishes harking back to the masters of 60s folk. Rock is back. Marz is leading the charge.

"The four-piece's brand of pop-pub-rock lands somewhere between the alternative rock of Placebo, the balladry of The Whitlams and a hint of grunge not too dissimilar to Bush. Marz himself was presented in a phenomenal Dr Frank-N-Furter inspired outfit. The new single Horrorhead is an uppercut of punchy rock that motivated the audience impeccably; an act to lookout for as it feels like there is something brewing here which will grab the attention of enthusiasts on quite a large scale."
- GlamAdelaide
www.marzguitar.com
www.facebook.com/marzguitar


LIAM GAIL & THE PONYTAILS
Sydney based songwriter and performer Liam Gale sings about life in the city, love and sex, Catholic guilt and general melodrama. Backed by rhythm and blues ensemble the Ponytails, prominent influences include mid 80's Tom Waits, mid 70's Joni Mitchell, Motown girl groups, Twin Peaks, Dark Side of the Moon, and early Crowded House. Fuzzed out guitars wrestle with what wants to be funk rhythm section in a live set that stumbles from surf-country to almost reggae to straight up blues rock. While Liam Gale croons over his resonator in conversation with the Pony Ladies, hollow body guitars and a growling tenor sax pulse over a 70's soul inspired rhythm section. Tense, dense and moody, Liam Gale & the Ponytails present a syrupy take on the blues.

"Gravitas and turmoil seep from this... it twists and turns through the sumptuous darkness."
– Nkechi Anele, Triple J
www.facebook.com/liamgalemusic

ROSHANI
From dirt poor beginnings in Sri Lanka to explosive multi-instrumental one-woman powerhouse, the music of Roshani is as captivating and uplifting as her life story. Roshani's music defies pigeonhole, timelessly crossing genre. Using loop pedals to lay down guitar, harmonica, keys, percussion and a voice that gives you goosebumps. Roshani developed her one-woman show while living in her van, busking on the streets and travelling wherever the wind took her.

"A deep, dark & soulful songwriter with a voice to match."
- James Blunt
www.roshanimusic.com
www.facebook.com/roshanimusic