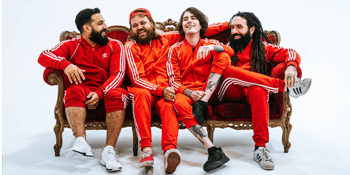 Piper's Son presents
FANGZ - Late Show
with Down For Tomorrow
Waywards (The Bank Hotel) (Newtown, NSW)
Saturday, 20 March 2021 9:30 pm
Following on from the release of their critically praised second EP 'But No Thanks', Sydney-based punks FANGZ have just revealed tour dates and their ghastly new single 'Self Medicate' - produced by Stevie Knight (Yours Truly, Stand Atlantic, The Dead Love), and mixed by James Paul Wisner (Hands Like Houses, Underoath).
On 'Self Medicate', piercing guitar paves the way with a descending chromatic progression, as thudding bass and monstrous drums meld to create a cacophony of chaos. As the track unfolds with its searing intensity, the mesmerising vocals of Josh Cottreau soar relentlessly, as the enigmatic frontman delves into a more serious subject matter with powerfully evocative lyrics.
Bassist and co-lyricist Jameel Majam describes the motivation behind 'Self Medicate':
"'TLDR; 'Self Medicate' is about learning to deal with your anxiety and using self care rather than substance abuse.
In particular, this song was written after one night in Brisbane. I had Jägermeister for breakfast and vodka for dinner. At the time I was dealing with a lot of changes in life and felt like I was continuously putting on an act. It all came to a head onstage that night…
I forgot how to play our set, couldn't tune my guitar and drunkenly lashed out at my band mates. I quit the band that night only to wake up on Sunday and sheepishly apologise to everyone in a Hungry Jacks in Grafton. On Monday, I went to the doctor and got a referral to see a psychologist."
To celebrate the release of the new track, FANGZ have announced a five-date tour across NSW, ACT and QLD, including a performance at Inverted Festival, alongside Skegss, Trophy Eyes, WAAX and Stand Atlantic.
Coming along with them for the ride are fellow Sydneysiders Down For Tomorrow; a band who thrived throughout 2020, picking up strong support from Spotify, Apple Music, triple j and Rock Sound (UK), amongst many other globally renown tastemakers.
In the live arena, FANGZ have sold out multiple headline shows and supported the likes of Comeback Kid (CAN), Cancer Bats (CAN), Gyroscope, Totally Unicorn and Bare Bones.
Their previously released material has been strongly supported by Spotify, Apple Music, triple j, triple j Unearthed, The Faction, FBi, SYN FM, 4ZZZ, Amazing Radio (UK), Pilerats, Blunt Magazine, Hysteria Magazine, Music Feeds, Wall of Sound, AAA Backstage and The Music.
The band have also just announced that they've signed a management deal with boutique artist services agency 'Good Intent'.
In the coming weeks, FANGZ will unveil an accompanying music video for 'Self Medicate'.
'Self Medicate' will be available worldwide on Friday February 26

TICKETING INFO
- Do not attend if you are feeling unwell
- All audience members will be required to sanitise & check-in upon entry to Waywards.
- Shows will be seated (1.5m apart) and limited to 68 per sitting to allow for social distancing.
- All seats & tables will be wiped down & sanitised between show sessions/sittings.
- Guests must be seated at all times of the show unless moving from one section of the venue to another - i.e toilet, smoking area etc. There is to be no standing and mingling among guests especially between different groups and alcohol can only be consumed by seated customers.
- Drinks can only be ordered through ME&U table service, no need to head to the bar! All tables will have their own ME&U beacon where guests can scan a QR code to view the drinks menu, order & pay as drinks are brought to them.
- Artist to perform two separate sittings, 6:30pm & 9:30pm
- Due to venue seating layout, tickets are only able to be purchased in groups of 2 or 4 (subject to availability for both)
- Patrons are to promptly leave once the shows have finished to ensure staff are able to sanitise and wipe down all surfaces before the next show.
The venue will be taking a number of precautionary measures to ensure patron safety, including:
- Hand sanitiser dispensers on entry and at tables
- Signage and social distancing markers throughout the venue
- Regular sanitising of the venue and full clean between sittings