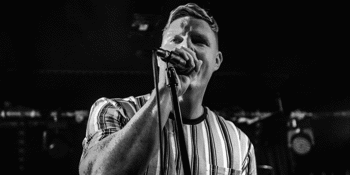 The Phazes - Late Show
with Goons
The Chippo Hotel (Chippendale, NSW)
Friday, 11 December 2020 9:30 pm
The Phazes are back after deropping Triple J hit song Manly Vale to an enormous response cementing them as one of Australia's most exciting new bands. Now a seasoned act The Phazes return to the scene with new indie anthem entitled Friends. Friends sees vintage garage guitar sounds paired with alluring electronic-esque vocals to create a powerful and catchy indie rock banger. This modern day approach to a familiar sound encapsulates the progressive transition of the The Phazes songwriting skills and sees the band breaking out of their old skin and hatching a more experimental yet mature approach to modern day problems in an era of overwhelming uncertainty. Produced by Birds Of Tokyo's Ian Berney and led by the enigmatic front man Hayden Byrnes The Phazes have been swathed in glowing reviews, praising everything from the technical aspects of their thoughtfully-written songs, to the intangibles: that inexplicable magic we all know as 'vibe'. The band's triple j Unearthed page is a veritable constellation of four and five star reviews, with the unanimous consent being that The Phazes have that extra special something, and have it in spades. Needless to say, this has translated to the band receiving generous airplay on Australia's finest radio stations. Knowing to strike while the iron is hot, The Phazes are currently working on their debut album entitled Thanks For Clapping which will surely see the band stamp themselves as one of the hottest prospects on the indie rock scene.
TICKETING INFO
- Do not attend if you are feeling unwell
- Shows will be seated and limited to 25 per sitting, patrons will be seated to allow for social distancing. There will be select seating in accordance with the venue's Covid Safe Plan with a 1.5m distance between groups. Guests must be seated at all times of the show unless moving from one section of the venue to another - i.e the bar, toilet, smoking area etc. There is to be no standing and mingling among guests especially between different groups and alcohol can only be consumed by seated customers.
- Artist to perform two separate sittings, 6:30pm & 9:30pm
- Upstairs kitchen will be open and running a $15.00 burger + schooner of beer or cider deal for those who have purchased a ticket to the show. Present your ticket to the bar staff when ordering to redeem.
- Tickets will need to be pre-purchased due to Covid -19 capacity restrictions and select seating arrangements enforced by the venue in order to comply with Covid safety measures and to ensure guests are protected and are as safe as possible at all times. All customers entering the premise must sign-in by providing accurate contact details via the venue's QR code sign in registry at the entrance of the venue which is designed specifically for contact tracing if necessary.
- Tickets will need to be purchased as a minimum of 2 pax to assist with venue seating plans and if you wish to be seated in a group with friends who have purchased tickets separately you will need to email the names of your group to hello@thechippohotel.com.au
NOTE: Groups cannot exceed 10 people.
The venue will be taking a number of precautionary measures to ensure patron safety, including:
- Hand sanitiser dispensers on entry and at tables
- Signage and social distancing markers throughout the venue
- Regular sanitising of the venue and full clean between sittings