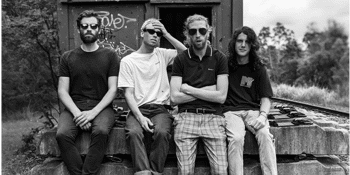 Diver
with Tawny Port + Sam Marks
The Chippo Hotel (Chippendale, NSW)
Friday, 20 August 2021 8:00 PM
Hot off the release of their stomping third single, Flame, Sydney rockers Diver are heading to the Chippo for one huge night of live music.
Having played at iconic venues this year like Sydney's Oxford Art Factory and Vinnies Dive Bar on the Gold Coast, Diver are bringing their iconic indie rock to The Chippo Hotel. It'll be hot and sweaty and sure to get you jumping.
"With track after track of hip-moving magic, this was the epitome of a shindig. Flamboyant hair swishing went hand in hand with string bending and skin beating." - The Music Producer
Their new single Flame is out everywhere on July 30th, and promises to be another instant classic from the hometown boys.
Don't miss out on seeing Diver in this intimate headline show, as they are set to saw from here.
Joining Diver for the evening are South-Coast indie outfit Tawny Port, and fellow Sydney sider Sam Marks.
TICKETING INFO
Shows will be standing and limited to 70 due to social distancing measures
Upstairs kitchen will be open and running a $15.00 burger + schooner of beer or cider deal for those who have purchased a ticket to the show
All customers entering the premise must sign-in by providing accurate contact details via the venue's QR code sign in registry at the entrance of the venue which is designed specifically for contact tracing if necessary.
The venue will be taking a number of precautionary measures to ensure patron safety, including:
Hand sanitiser dispensers on entry and through venue
Signage and social distancing markers throughout the venue
Regular sanitising of the venue and full clean between sittings