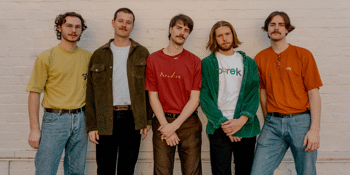 Sampson - Late Show
with Will Armstrong
Waywards (The Bank Hotel) (Newtown, NSW)
Friday, 19 March 2021 9:30 PM
Sampson is a Sydney Psych-Pop-Rock group hailing from the South Coast of NSW. The 5-piece formed back in 2016 with founding members Daniel Hockey (lead vocal, guitar), Joel Morrow (lead guitar), and the Sampson twins; Matthew (bass, BVs, synth), Brendan (drums), before Sam Langley (synth) joined two years later once the band relocated to Sydney.
After releasing 3 singles, Sampson shared their debut EP in 2019 titled From When I Went To Space, which they celebrated with a sold out show at The Chippo.
Influenced by artists such as Tame Impala and Methyl Ethel, Sampson's music showcases their love for psychedelic layers and a desire to blend genres, with Hip-Hop inspired drum beats and catchy Pop melodies front and centre in their latest release 'Closer'.
Sampson continue to record their music DIY, and hope to explore a diverse range of sounds and textures with multiple releases in 2021.
TICKETING INFO
- Do not attend if you are feeling unwell
- All audience members will be required to sanitise & check-in upon entry to Waywards.
- Shows will be seated (1.5m apart) and limited to 68 per sitting to allow for social distancing.
- All seats & tables will be wiped down & sanitised between show sessions/sittings.
- Guests must be seated at all times of the show unless moving from one section of the venue to another - i.e toilet, smoking area etc. There is to be no standing and mingling among guests especially between different groups and alcohol can only be consumed by seated customers.
- Drinks can only be ordered through ME&U table service, no need to head to the bar! All tables will have their own ME&U beacon where guests can scan a QR code to view the drinks menu, order & pay as drinks are brought to them.
- Artist to perform two separate sittings, 6:30pm & 9:30pm
- Due to venue seating layout, tickets are only able to be purchased in groups of 2 or 4 (subject to availability for both)
- Patrons are to promptly leave once the shows have finished to ensure staff are able to sanitise and wipe down all surfaces before the next show.
The venue will be taking a number of precautionary measures to ensure patron safety, including:
- Hand sanitiser dispensers on entry and at tables
- Signage and social distancing markers throughout the venue
- Regular sanitising of the venue and full clean between sittings