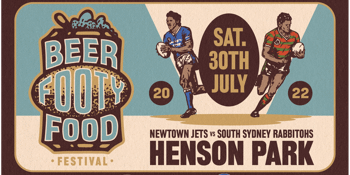 The Music and Booze Company & Newtown Jets Present
The Beer Footy & Food Festival
Henson Park (Marrickville, NSW)
Saturday, 30 July 2022 12:00 pm
We are back Saturday 30th July!!

The Beer Footy Food Festival has become a much-loved tradition at Henson Park, drawing crowds upwards of 10,000 people in past editions. The day allowing revelers the opportunity to enjoy footy the way it was intended, on an iconic grassy hill with a locally brewed beer in hand.

The premise of the event is as simple as its namesake, marrying the east coast's best breweries, Sydney's hottest purveyors of street food and the showdown between 2 legacy Rugby League clubs:
Saturday 30th July

Newtown Jets Vs South Sydney Rabbitohs
Brewers, Food & Entertainment announcement to come.
Head to our website for more details