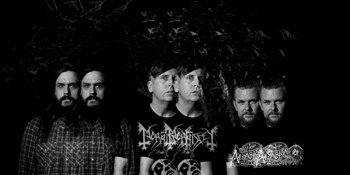 Your Mate Bookings & Get on the Stage present
Whores. (USA) + Special Guests
with Special Guests
The Vanguard (NEWTOWN, NSW)
Sunday, 3 October 2021 6:00 pm
For ticket information please click here
US Abrasive Noise Punks Whores. will make their way to Australia this April 2020 for their long-awaited tour.
Since their inception in 2010, the natives of Atlanta, Georgia, have spent the last 10 years establishing Whores. as one of heavy music's most distinctive acts thanks to the formidable combination of the group's punk ethos and the ferocity of their sound. Confrontational and relentless, the music of Whores. will now be seen and heard in its fully-formed state in Australia for the first time ever.
Beginning with 2011's Ruiner EP, Whores. brought a welcomed new vision to the often-tired "extreme music" scene. Two years later saw the release of the Clean. EP, a six-track musical display of visceral rancor and songwriting brilliance. Highly anticipated by critics and fans alike, Clean. sold out within a month, prompting the group to release a second pressing. Touted by SPIN as one of 2013's 'Best Metal Albums', Clean. simply reaffirmed what listeners had suspected all along. Whores. isn't here to fuck around. Their 2016 debut full length album GOLD was included in Rolling Stone's top 10 metal albums, and Metal Injection named the album the top noise rock album of the decade stating, "There is simply no topping what Whores. has done here."
TICKETING INFO
This is an 18+ event.
DOORS OPEN AT 6PM

SET TIMES ARE SUBJECT TO CHANGE FROM SHOW TO SHOW
NOTE THERE IS SOME UNRESERVED SEATING AVAILABLE AT ALL EVENTS
PLEASE NOTE THE FOLLOWING:
When General Admission Ticket sales have closed on the day of the show they may still be available at the door on the night.
Once purchased tickets are non-refundable & non-transferable.
Tickets must be presented at the door. Physical and digital copies accepted.
A booking fee applies to all advance tickets. (All quoted prices include tax).
VENUE INFO
Over 18's only unless advertised otherwise.
All children under 18 not permitted including small children and babies.
Photo ID is essential, acceptable ID is a current and valid Australian Photo Drivers Licence or Passport
(Please check with the venue for any other acceptable forms of photo ID).
The venue reserves the right to refuse admission to any person.
Intoxicated persons will not be admitted.
No thongs or steel cap boots.
Dangerous behaviour including Crowd Surfing, Stage Diving, Moshing and Violent Dancing is not allowed and will result in your immediate removal from this venue.
Inappropriate behaviour at this venue will lead to your banning.