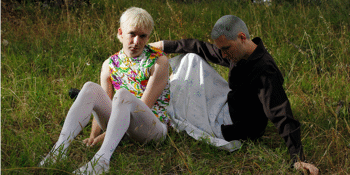 Patamon
with Wytchings + Felix Lush
The Chippo Hotel (Chippendale, NSW)
Saturday, 16 July 2022 8:00 PM
PATAMON are an electronic hyperpop duo, composed of vocalist and celebrated fashion designer Alix Higgins and producer, musician Joan Banoit. Since launching in 2021 they have released a string of singles including the Spotify and FBi radio playlisted FAIRY TYPE and MEGAFLORA.

After returning from Paris to launch his fashion label, Alix met Joan and they began creating a sonic fantasy world together. Laced with the duo's highly idiosyncratic brand of visual poetry, their first tracks reference Fairies, Pokémon, the natural world, Heartbreak, Friendship and Queer Identity.

Patamon's sound leans heavily on pop and dance influences, while sharing a similar indifference to their traditional structures and conventions as fellow contemporary iconoclasts SOPHIE, Grimes, FKA Twigs and Bladee.
Patamon's highly anticipated debut live show is being held downstairs at the Chippo Hotel on 16 July, with support from local friends WYTCHINGS and FELIX LUSH.