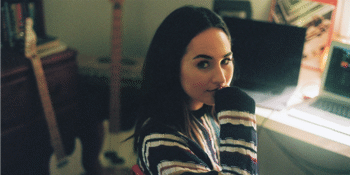 Seismic Talent Agency & Foreign Echo presents…
CANCELLED - DVNA - Late Show
with Special Guests
The Chippo Hotel (Chippendale, NSW)
Saturday, 23 January 2021 9:30 PM
DVNA; a colourful, bold and intriguing project born within the depths of a Gold Coast bedroom. Taking control of her own production allows her the artistic freedom to truly express herself, creating a warm fusion between new-age soul and electronica, referencing Anderson .Paak and Syd.
Her sound is fierce, emotive and heads straight for your feels, fusing elements of soul, jazz and modern-day electronica to create her own unique blend. She likes to write relevant, borderline humorous lyrics exposing her very real conversations with friends, as well as revealing a more personal insight about her own past.
DVNA has been turning heads all around the country with her smooth and sultry vocals. Her short career has already racked up an impressive resume including 4M Spotify streams, winning Song Of The Year at the Gold Coast Music Awards (Looking Like A Snack), supported the likes of LEISURE, Alice Ivy, Kira Puru, Arno Faraji and performed at various music festivals including Laneway Festival, The Mountain Goat Valley Crawl, among many others. She was named triple j Unearthed Feature Artist in January 2020 and showcased at BIGSOUND 2019 where she was one of the most talked about artists of the whole festival.
Sonically playful and lyrically sarcastic, with the same velvety DVNA brand, she returns with follow up track 'All My Friends'.
"All My Friends touches on the growing pressures and anxieties surrounding social media and its negative impacts on mental health. These highly addictive, validation seeking platforms skew our view of the world and most importantly ourselves. A constant comparison to false, edited and highlighted versions of humans that are unrealistic and often unattainable," explains DVNA.
COVID DISCLAIMER - We will do everything to make sure this is a safe event but in the case it can't go ahead due to government restrictions all tickets will be valid for a rescheduled date. If you can't make that date for any reason we will be offering refunds.
TICKETING INFO
- Do not attend if you are feeling unwell
- Shows will be seated and limited to 25 per sitting, patrons will be seated to allow for social distancing. There will be select seating in accordance with the venue's Covid Safe Plan with a 1.5m distance between groups. Guests must be seated at all times of the show unless moving from one section of the venue to another - i.e the bar, toilet, smoking area etc. There is to be no standing and mingling among guests especially between different groups and alcohol can only be consumed by seated customers.
- Artist to perform two separate sittings, 6:30pm & 9:30pm
- Upstairs kitchen will be open and running a $15.00 burger + schooner of beer or cider deal for those who have purchased a ticket to the show. Present your ticket to the bar staff when ordering to redeem.
- Tickets will need to be pre-purchased due to Covid -19 capacity restrictions and select seating arrangements enforced by the venue in order to comply with Covid safety measures and to ensure guests are protected and are as safe as possible at all times. All customers entering the premise must sign-in by providing accurate contact details via the venue's QR code sign in registry at the entrance of the venue which is designed specifically for contact tracing if necessary.
- Tickets will need to be purchased as a minimum of 2 pax to assist with venue seating plans and if you wish to be seated in a group with friends who have purchased tickets separately you will need to email the names of your group to hello@thechippohotel.com.au
NOTE: Groups cannot exceed 10 people.
The venue will be taking a number of precautionary measures to ensure patron safety, including:
- Hand sanitiser dispensers on entry and at tables
- Signage and social distancing markers throughout the venue
- Regular sanitising of the venue and full clean between sittings