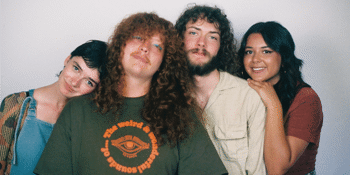 Sunfruits
with Bliss + The Sugarland Express
Waywards (The Bank Hotel) (Newtown, NSW)
Thursday, 18 August 2022 8:00 PM
Sunfruits are a psychedelic pop band from Melbourne. Founded by Winter McQuin, their members include Evie Vlah, Imogen Cygler, Elena Jones and Gene Argiro.
Sunfruits live shows revive the 60s psychedelic sounds and visuals with their very own modern garage-pop spin, blending their own twist of modern psychedelia and Tropicalia inspired freak outs.
Whilst Sunfruits music is playful and upbeat, the meaning and messages behind the music concern environmental collapse, social uprising and the willingness to change outdated views. Sunfruits have been nominated for two Music Victoria Awards including Best Band and Best Song as well as being dubbed "one of 2020's most exciting acts" by Pilerats. They have collaborated with iconic soy milk brand Bonsoy, environmental organization Green Music Australia and sold out shows across the east coast of so called Australia. Their most recent 7" features remixes from Traffik Island, Hachiku and Candy. The band have sold over 1500+ records to date through their collaborations with Third Eye Stimuli Records, Six Tonnes De Chair (EU) and more recently Flightless Records (Distro). With recent supports including Gabriella Cohen, Beans, Hachiku and appearances at NYE On The Hill, Brunswick Music Festival, Euroa Music Festival and more, Sunfruits are poised to take off with the finishing touches being put on their debut album which is due out 2022.
Join Sunfruits at their first show in Sydney/Gadigal in over a year!
January 13th
8pm
Support from:
Bliss
The Sugarland Express
TICKETING INFO
Do not attend if you are feeling unwell
All audience members will be required to sanitise & check-in upon entry to Waywards.
Shows will be standing and limited to 110 to comply with Public Health Order requirements
All patrons must be fully vaccinated and be able to display proof of vaccination upon entry
The venue will be taking a number of precautionary measures to ensure patron safety, including:
Hand sanitiser dispensers on entry and throughout venue
Signage and social distancing markers throughout the venue
Regular sanitising of the venue and full clean after each day