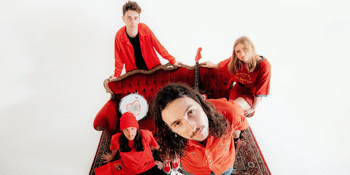 New World Artists presents
OK Hotel - Early Show
with Special Guests
Waywards (The Bank Hotel) (Newtown, NSW)
Saturday, 13 February 2021 6:30 PM
Bonded through melancholy mindsets and unstoppable ambition, Alternative Pop Rock 4-piece OK Hotel have been branded as Wollongong's latest export. The 4-piece draw influence from fuzz fuelled 90's bands such as Smashing Pumpkins, whilst using their immediate writing style and hook-fuelled chorus' to cement them firmly in the present.
OK Hotel have wasted no time this year, revealing their high-octane EP "Stay Bright" in November, hitting the mark yet again with their signature beltable, heart-on-your-sleeve alternative rock. The band revealed the first taste of this body of work in February with the high-energy, grippingly melodic rock track, "Swim", followed by a series of shows up and down the east-coast.
Their follow up single, "Life is Crazy (Like That)" cemented their status as ones to watch in the Australian punk scene, receiving praise from PileRats, Tone Deaf, The AU Review, Milky, Forte Magazine and more, being added to Spotify's Local Noise playlist, and landing them even more spins on triple j. OK Hotel also climbed the triple j Unearthed charts, landing themselves #40 in the top 50 most played artists of 2020.
OK Hotel will be hitting the road again with their debut EP 'Stay Bright', a body of work capturing the essence of being left of idle throughout 2020 and amplifying that frustration for you to hear, spread out across 5 cities between Canberra and Gold Coast. Start 2021 off right to one of their shows in February and enjoy the high-praised tracks of 'Stay Bright', supported by some of Australia's best up-coming acts.
Praise for OK Hotel:
"If 2020 ushers one east-coast punk group into one to watch status, we hope that it's OK Hotel." - PileRats
"It's a track that beckons to be screamed on top of someone's shoulders in a dusty Yours & Owls pit. Distorted, meaty guitars carry one of the most joy-inducing choruses we've heard all year." - Tone Deaf
"This track validates the explosive presence of the band, placing their skills for hook-driven choruses and instantly engaging melodies front and centre." - Forte Magazine
"OK Hotel's arrival has gotta be one of the few brilliant and memorable things to come out of 2020." - Abby Butler (triple j)
"My new favourite song on first listen - now that doesn't happen often. Impressive." - Claire Mooney (triple j)
"These guys rip! If you can't get around this then we can't be mates." - Dave Ruby Howe (triple j)
TICKETING INFO
- Do not attend if you are feeling unwell
- All audience members will be required to sanitise & check-in upon entry to Waywards.
- Shows will be seated (1.5m apart) and limited to 50 per sitting to allow for social distancing.
- All seats & tables will be wiped down & sanitised between show sessions/sittings.
- Guests must be seated at all times of the show unless moving from one section of the venue to another - i.e toilet, smoking area etc. There is to be no standing and mingling among guests especially between different groups and alcohol can only be consumed by seated customers.
- Drinks can only be ordered through ME&U table service, no need to head to the bar! All tables will have their own ME&U beacon where guests can scan a QR code to view the drinks menu, order & pay as drinks are brought to them.
- Artist to perform two separate sittings, 6:30pm & 9:30pm
- Due to venue seating layout, tickets are only able to be purchased in groups of 2 or 4 (subject to availability for both)
- Patrons are to promptly leave once the shows have finished to ensure staff are able to sanitise and wipe down all surfaces before the next show.
The venue will be taking a number of precautionary measures to ensure patron safety, including:
- Hand sanitiser dispensers on entry and at tables
- Signage and social distancing markers throughout the venue
- Regular sanitising of the venue and full clean between sittings