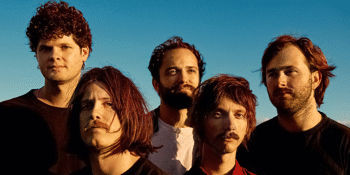 PEEL - 'Memory Loop' Single Launch - Late Show
with Special Guests
Waywards (The Bank Hotel) (Newtown, NSW)
Saturday, 12 December 2020 9:30 PM
PEEL is a band from Sydney, Australia making interdimensional guitar music. Pulled together from past projects that fell apart and current projects making waves, the band are taking a decade-long musical friendship into the future.
PEEL's sound is anchored in classic elements of shoegaze – that delicate balance of fragility and intensity – with psychedelic colourations and driving post-punk undertones. The band weave fuzz and reverb with luminous synths and sequencers, atmospheric soundscapes, dazed vocals and propulsive rhythms.
There's a sense of nostalgia that evokes illusions of 80s/90s UK indie, from The Jesus and Mary Chain to The Stone Roses, but with the luminescence of modern psychedelia. This mood is carried through to the band's photographs and videos, with a visual atmosphere that balances grainy textures and a dream-like surrealities, creating an ocular tension reminiscent of 90s aesthetics.
Formed following a five-year hiatus from writing and recording, the band started piecing together what would become their debut release in mid-2019, with no purpose other than that it was time to start making music again.
Ideas flooded, gravitating towards a sonic architecture that is spacious, gritty and textural. At the start of 2020, the band headed into the studio to start turning demos into songs, something that seemed counterintuitive considering the moment in time, but necessary all the same.
Working at BLANKSPACE in Sydney with producer James Christowki, the band recorded in chunks, piecing together an expansive collection of tracks over a few months. The studio – an open-plan space loaded with noise-making tools – was conducive to experimentation and collaboration. Ideas and energy flowed fluidly, with members jumping between instruments, guests dropping in and out and the band exploring new sonic territory – a process that was at times chaotic but always building towards something provocative and alluring.
Six months later, the band have emerged with five tracks through which singer Nick Stillman's vocals brim with nonchalant purpose, telling stories from space and earth,
while guitarist Harry Tuckwell's arsenal of soundscapes venture from sophisticatedriffs into utter chaos. These elements are barrelled forth by Tom Kell's relentless and formidable drumming, with doses of otherworldly synthesizers and grimey bass navigating subtle moments and dynamic movement floating. The trio are joined live by Steven Schouten of Misty Lanes and Sam Vallellanes of Montes Jura.
'Memory Loop' is the first single from PEEL's forthcoming debut EP, due for release in 2021, out via Third Eye Stimuli.
TICKETING INFO
- Do not attend if you are feeling unwell
- All audience members will be required to sanitise & check-in upon entry to Waywards.
- Shows will be seated (1.5m apart) and limited to 50 per sitting to allow for social distancing.
- All seats & tables will be wiped down & sanitised between show sessions/sittings.
- Guests must be seated at all times of the show unless moving from one section of the venue to another - i.e toilet, smoking area etc. There is to be no standing and mingling among guests especially between different groups and alcohol can only be consumed by seated customers.
- Drinks can only be ordered through ME&U table service, no need to head to the bar! All tables will have their own ME&U beacon where guests can scan a QR code to view the drinks menu, order & pay as drinks are brought to them.
- Artist to perform two separate sittings, 6:30pm & 9:30pm
- Due to venue seating layout, tickets are only able to be purchased in groups of 2's and 4's (subject to availability for both)
- Patrons are to promptly leave once the shows have finished to ensure staff are able to sanitise and wipe down all surfaces before the next show.

The venue will be taking a number of precautionary measures to ensure patron safety, including:
- Hand sanitiser dispensers on entry and at tables
- Signage and social distancing markers throughout the venue
- Regular sanitising of the venue and full clean between sittings