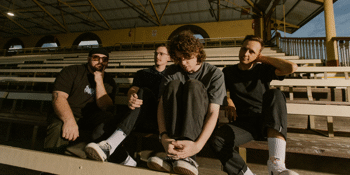 Select Music & Rude Records
Waxflower 'The Sound of What Went Wrong' EP Release Tour - SYDNEY
with The Comfort + Special Guests
Waywards (The Bank Hotel) (Newtown, NSW)
Saturday, 4 June 2022 8:00 PM
Off the back of their extensive national tour alongside Trophy Eyes,

Brisbane pop-punk icons

Waxflower

are

today excited to announce their Australian tour, in celebration of their sophomore EP 'The Sound of What Went Wrong'.

Reaching audiences across Sydney, Melbourne, Wollongong & culminating in a triumphant hometown performance in Brisbane, Waxflower are more hungry than ever to be back on the road and showcasing their cathartic & energetic live performance.

"We've had months upon months to dream up the ideal headline tour & I think we've pieced it together perfectly" says drummer Daniel Seymour. "We've been itching to get back on the road for our own shows & this lines up as the perfect opportunity. We're so passionate about these new songs & the chance to share them with our friends, family & loved ones is something we've been eagerly waiting for!"
Never ones to shy away from candid, heart-on-sleeve lyricism, Waxflower's new EP is what lead singer Tristan Higginson describes as
"five anthems for the over-thinker,"
and "
the EP a brain
writes at 2 AM when it can't sleep – picking apart every awkward moment and wrong turn, all while wondering what could have been."
Delivering five deliciously nostalgic emotive-rock anthems that ooze with buckets loads of guitar-infused grit and the perfect amount of pop-punk angst, 'The Sound of What Went Wrong' acts as an ode to the brain, as Higginson elaborates:
"The last few years have given us more time in our heads than we may have liked. Self-doubt, self-hatred, missed connections, crutches, medication. All the fun stuff is here, wrapped up in songs that capture both the poppiest and heaviest sides of Waxflower to date. I hope people can find something to relate to throughout its runtime."
Entering 2022 with an expansive new sound, Waxflower's vision remains constant; to create moments of honesty and vulnerability within their music - doing so through an expansive range of sonic influences.