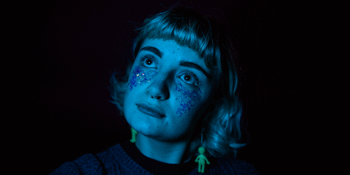 Georgia Marley - Late Show
with Artison
The Chippo Hotel (Chippendale, NSW)
Friday, 19 March 2021 9:30 PM
After selling out her first ever headline show in August, Georgia Marley is back with friends Artison to celebrate the slow return of live music.
A rising talent on the indie-pop scene, Georgia Marley is no newbie; she has been writing songs for over 10 years, and is entirely independently recorded and produced, crediting her production knowledge to Western Sydney's All Girl Electronic and New Age Noise workshops.
Having played live under the name Georg for 5 years, including a slot on The Plot's 2017 line-up, Georgia Marley released her first two singles in 2019, which followed into the release of her debut album "Yearning" in mid 2020. The album has been added to rotation on FBi Radio, and the singles were met with praise on Triple J Unearthed.
Georgia's music is warm, relatable, and unwaveringly honest, and places her firmly within the ranks of such Australian songwriters as Courtney Barnett and Angie McMahon.
Joining her is the Western Sydney solo act Artison, a dreamy electro-pop project by Alison Zhuang. Artison draws influences from across the globe- from SG Lewis to Petit Biscuit, Shawn Wasabi, and underground Plunderphonic artists like Lacheque. She has made her mark on venues ranging from bars to galleries. Through her stylish R&B and electronic vibes, artison hopes to stir the inner imagination out of everyone.
TICKETING INFO
- Do not attend if you are feeling unwell
- Shows will be seated and limited to 30 per sitting, patrons will be seated to allow for social distancing. There will be select seating in accordance with the venue's Covid Safe Plan with a 1.5m distance between groups. Guests must be seated at all times of the show unless moving from one section of the venue to another - i.e the bar, toilet, smoking area etc. There is to be no standing and mingling among guests especially between different groups and alcohol can only be consumed by seated customers.
- Artist to perform two separate sittings, 6:30pm & 9:30pm
- Upstairs kitchen will be open and running a $15.00 burger + schooner of beer or cider deal for those who have purchased a ticket to the show. Present your ticket to the bar staff when ordering to redeem.
- Tickets will need to be pre-purchased due to Covid -19 capacity restrictions and select seating arrangements enforced by the venue in order to comply with Covid safety measures and to ensure guests are protected and are as safe as possible at all times. All customers entering the premise must sign-in by providing accurate contact details via the venue's QR code sign in registry at the entrance of the venue which is designed specifically for contact tracing if necessary.
- Tickets will need to be purchased as a minimum of 2 pax to assist with venue seating plans and if you wish to be seated in a group with friends who have purchased tickets separately you will need to email the names of your group to hello@thechippohotel.com.au
NOTE: Groups cannot exceed 10 people.
The venue will be taking a number of precautionary measures to ensure patron safety, including:
- Hand sanitiser dispensers on entry and at tables
- Signage and social distancing markers throughout the venue
- Regular sanitising of the venue and full clean between sittings