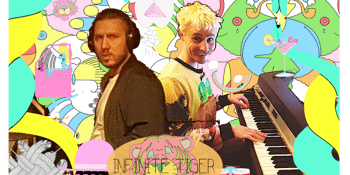 Infinite Tiger - Late Show
with The High Ceilings
The Chippo Hotel (Chippendale, NSW)
Friday, 4 December 2020 9:30 PM
Infinite Tiger are basically marketing geniuses, you see they wrote their debut album all about how the end of the world is coming and associated nihilistic tendencies then managed to time the release of that album with a global pandemic that caused the whole world to shit itself and suspect that the end of the world may very well be coming. While the thematic synergy was par excellence, the one flaw in the whole plan was being able to play live shows to promote the album to audiences.
So here we are, a few months later, and Infinite Tiger are finally playing shows to celebrate the arrival of their debut album, L'Exposer, which is a kaleidoscope of sonic mayhem and good vibes masquerading as the aural apocalypse. Made from a palette of obscure samples, live drums and guitars and assorted synths the album was all stitched together with the capable production skills of Darren Seltmann (ex-Avalanches), Infinite Tiger's live shows find equilibrium between head nodding left-field hip-hop and a punk attitude.
Because they don't particularly like sleeping, the band are also head long into producing album number two and will have a few new tunes to road test, a video reel accompaniment and possibly a few good friends to pop up during the show.
Supporting both sittings will be Inner West legends The High Ceilings who will be delivering their ever faithful Sonic Youth covering Neil Young vibes.
TICKETING INFO
- Do not attend if you are feeling unwell
- Shows will be seated and limited to 25 per sitting, patrons will be seated to allow for social distancing. There will be select seating in accordance with the venue's Covid Safe Plan with a 1.5m distance between groups. Guests must be seated at all times of the show unless moving from one section of the venue to another - i.e the bar, toilet, smoking area etc. There is to be no standing and mingling among guests especially between different groups and alcohol can only be consumed by seated customers.
- Artist to perform two separate sittings, 6:30pm & 9:30pm
- Upstairs kitchen will be open and running a $15.00 burger + schooner of beer or cider deal for those who have purchased a ticket to the show. Present your ticket to the bar staff when ordering to redeem.
- Tickets will need to be pre-purchased due to Covid -19 capacity restrictions and select seating arrangements enforced by the venue in order to comply with Covid safety measures and to ensure guests are protected and are as safe as possible at all times. All customers entering the premise must sign-in by providing accurate contact details via the venue's QR code sign in registry at the entrance of the venue which is designed specifically for contact tracing if necessary.
- Tickets will need to be purchased as a minimum of 2 pax to assist with venue seating plans and if you wish to be seated in a group with friends who have purchased tickets separately you will need to email the names of your group to hello@thechippohotel.com.au
NOTE: Groups cannot exceed 10 people.
The venue will be taking a number of precautionary measures to ensure patron safety, including:
- Hand sanitiser dispensers on entry and at tables
- Signage and social distancing markers throughout the venue
- Regular sanitising of the venue and full clean between sittings