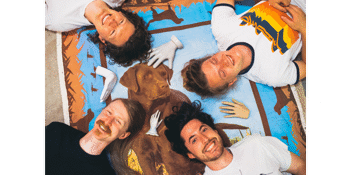 RAD MUSIC MGMT & FOUR TONE ARTISTS PRESENTS
RAT!hammock - Late Show
with Special Guests
Waywards (The Bank Hotel) (Newtown, NSW)
Saturday, 5 December 2020 9:30 PM
Following the release of triple j high rotation single 'Word of the Day' back in June, Melbourne mid-fi four-piece RAT!hammock are today thrilled to reveal two brand new tracks, 'Easy' and 'Same But A Little Less'.

Focus track 'Easy' sees the band move towards an evocatively heartfelt and melodic sound, aligning with the song's heart-on-sleeve theme of new love.

"I was kind of thinking about the feeling of the first chapter of meeting someone," reflects frontman Jackson Phelan. "They can appear like some kind of unidentifiable object. They seem shiny and dangerous, cut from crystal. And as you get close to them you get to be one of two partners in crime, committing the big heist and getting away with it. It's dark and hopeful."
As a bonus treat, RAT!hammock have released their long-time live set feature 'Same But A Little Less' alongside 'Easy'.
Endearing Melbourne quartet RAT!hammock soared onto the national radar with the release of their breakout 2018 single, 'June', turning heads across the country with their unique blend of subtly lo-fi indie rock and abundant charm.

Fresh from touring with fellow Melbourne darlings Tiny Little Houses, 'June' proved to be just one of many enviable calendar months for the then-trio, with its release lending to strong support from Aussie youth broadcaster triple j, a spot on the BIGSOUND lineup, as well as taking out the 2019 Laneway Festival competition via Unearthed.

2019 brought with it a sonically darker side to RAT!hammock's versatile, cleverly crafted songwriting, with the band's captivating follow up single 'Ghost'. The release saw RAT!hammock continue their unstoppable upward trajectory, picking up triple j rotation, a national tour with Brisbane indie favourites Last Dinosaurs, and a run of sold out headline shows along the east coast. Late 2019 release 'Pick Up' followed suit, with the band embarking on an undeniably wholesome co-headline tour with Adelaide mates Horror My Friend before seeing out the year at Spilt Milk festival, and ringing in 2020 at NYE On The Hill.

In June RAT!hammock delivered a change of pace with the jubilant, quirky, and quintessentially RAT!hammock 'Word Of The Day'. The track was swiftly added to high rotation on triple j and saw an abundance of community radio and domestic media support.

Now the band return with a double A side release, 'Easy' and 'Same But A Little Less', hinting at the possibility of an extended release to come.

TICKETING INFO
- Do not attend if you are feeling unwell
- All audience members will be required to sanitise & check-in upon entry to Waywards.
- Shows will be seated (1.5m apart) and limited to 50 per sitting to allow for social distancing.
- All seats & tables will be wiped down & sanitised between show sessions/sittings.
- Guests must be seated at all times of the show unless moving from one section of the venue to another - i.e toilet, smoking area etc. There is to be no standing and mingling among guests especially between different groups and alcohol can only be consumed by seated customers.
- Drinks can only be ordered through ME&U table service, no need to head to the bar! All tables will have their own ME&U beacon where guests can scan a QR code to view the drinks menu, order & pay as drinks are brought to them.
- Artist to perform two separate sittings, 6:30pm & 9:30pm
- Due to venue seating layout, tickets are only able to be purchased in groups of 2's and 4's (subject to availability for both)
- Patrons are to promptly leave once the shows have finished to ensure staff are able to sanitise and wipe down all surfaces before the next show.
The venue will be taking a number of precautionary measures to ensure patron safety, including:
- Hand sanitiser dispensers on entry and at tables
- Signage and social distancing markers throughout the venue
- Regular sanitising of the venue and full clean between sittings