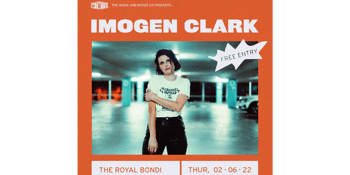 The Music and Booze Co presents
Imogen Clark
with special guests
The Royal Bondi (Bondi, NSW)
Thursday, 2 June 2022 8:00 pm
The Music and Booze Co Presents...
Imogen Clark: Live at The Royal Bondi
Thursday June 2
Free Entry, 9pm
An artist who regularly performed 75+ shows in a year, Imogen has barely managed 20 over the last two. Even that number is a testament to her determination to do the only thing that for her makes life worth living – coming together with other people to put her heart on her sleeve and exhaust herself physically and emotionally making music that will move people.

"I don't know who I am when I can't do this," she says. "It's not just a job, it's what makes me feel alive. That connection with an audience of strangers, where you don't know somebody but you know they feel how you feel, and with the people on stage bringing these songs to life with you, my life feels empty without it, so it's time to make up for lost time".

Imogen's new single Enemy is the positive sum of all these feelings, an indie rock anthem about breaking out of a gaslighting relationship. Co-written with indie star Alex Lahey just prior to the pandemic, it has become a mainstay of Imogen's irregular live shows, transforming into increasingly faster and leaner versions of the song. By early 2022, Imogen was ready to get into the studio and capture that energy on record.

"I feel like the moments of catharsis I've had playing this song and what it does to the crowd is exactly what I needed to put out as my next single. I got this cast of musicians, some I know, some I've played with before and some I just admired, and I'm so lit up by how this track turned out".

Produced by former Gang of Youths guitar slinger and Broth Records head Joji Malani and mixed by Middle Kids' Tim Fitz, the track features Adam Newling on guitar, Superorganism's Earl Cho on bass and keyboards and Middle Kids' Harry Day on drums, along with Ali Barter on backing vocals.