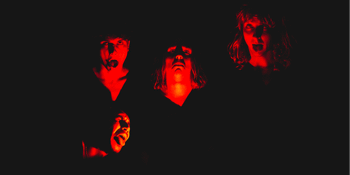 Fungas
with Rainbow Riders + The Business Lounge
The Chippo Hotel (Chippendale, NSW)
Saturday, 27 November 2021 8:00 pm
Fresh off the release of their latest EP, 'Theory Of The Mind', Fungas are hitting the big smoke to celebrate with a night of psychedelic goodness. With their ever changing, genre bending sound, Fungas' energetic live show is one that constricts your eyes to stand firmly locked on the band, forcing you to indulge in a cosmic bite of sonic bliss, with fuzzy guitars, constant changing rhythm patterns, mellotrons, synths and so so much delay. Joining them is Central Coast and Sydney psych legends, The Business Lounge and Rainbow Riders, both whose guitars, flutes, organs, theremins and tubs constantly evolve through a mellow tinge of psychedelic jams and groves. Grab your tickets, lose your brain and drift through the everglades of psych flowing directly into The Chippo Hotel on 9th July.
TICKETING INFO
Shows will be standing and limited to 70 due to social distancing measures
Upstairs kitchen will be open and running a $15.00 burger + schooner of beer or cider deal for those who have purchased a ticket to the show
All customers entering the premise must sign-in by providing accurate contact details via the venue's QR code sign in registry at the entrance of the venue which is designed specifically for contact tracing if necessary.
The venue will be taking a number of precautionary measures to ensure patron safety, including:
Hand sanitiser dispensers on entry and through venue
Signage and social distancing markers throughout the venue
Regular sanitising of the venue and full clean between sittings