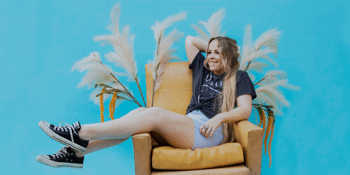 Sammy Honeysett - Late Show
with The Assets
The Chippo Hotel (Chippendale, NSW)
Saturday, 14 November 2020 9:30 pm
Hailing from the inner southwest of Sydney, Sammy Honeysett aims to please with an array of indie pop/rock tunes bound to worm into your brain and then find a place in your heart. Sammy turns indie-esque chords into landscapes of pop indulgence with melodies and hooks to match, with witty-plaintive reflections of her life spelled out in writing that will sink it's teeth in as a direct line to your feels.
Having cut her teeth on the Sydney pub and club circuit singing in the band Bowling in Japan she has already established herself as one of the premier front women of Sydney's underground. Sammy's first foray into solo work provides the perfect pastel colour palette for an increasingly over-saturated world. This project backed by band has already amassed a catalogue of material that will be a treat for fans.
2019 was the year Sammy gave us a strong first single Jones Street , A clever art of story telling on stage gives the audience a ticket into her world, with sellout debut gig at the Low Bar Sydney, Sammy undoubtedly has a gift that the world needs to seen. Supporting many acts around Sydney, Sammy took some time to write and create an exceptional EP set to release early next year (2021) but Fans will not have to wait that long for new music from this brilliant young woman with a new single 'All I'll Be' will be here NOV 2020.


TICKETING INFO
- Do not attend if you are feeling unwell
- Shows will be seated and limited to 25 per sitting, patrons will be seated to allow for social distancing. There will be select seating in accordance with the venue's Covid Safe Plan with a 1.5m distance between groups. Guests must be seated at all times of the show unless moving from one section of the venue to another - i.e the bar, toilet, smoking area etc. There is to be no standing and mingling among guests especially between different groups and alcohol can only be consumed by seated customers.
- Artist to perform two separate sittings, 6:30pm & 9:30pm
- Upstairs kitchen will be open and running a $15.00 burger + schooner of beer or cider deal for those who have purchased a ticket to the show. Present your ticket to the bar staff when ordering to redeem.
- Tickets will need to be pre-purchased due to Covid -19 capacity restrictions and select seating arrangements enforced by the venue in order to comply with Covid safety measures and to ensure guests are protected and are as safe as possible at all times. All customers entering the premise must sign-in by providing accurate contact details via the venue's QR code sign in registry at the entrance of the venue which is designed specifically for contact tracing if necessary.
- Tickets will need to be purchased as a minimum of 2 pax to assist with venue seating plans and if you wish to be seated in a group with friends who have purchased tickets separately you will need to email the names of your group to hello@thechippohotel.com.au
NOTE: Groups cannot exceed 10 people.
The venue will be taking a number of precautionary measures to ensure patron safety, including:
- Hand sanitiser dispensers on entry and at tables
- Signage and social distancing markers throughout the venue
- Regular sanitising of the venue and full clean between sittings