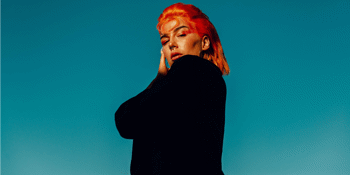 Great Southern Nights in association with Niche present
Lauren. - Early Show
with Gibrillah
Waywards (The Bank Hotel) (Newtown, NSW)
Thursday, 26 November 2020 7:30 pm
Brisbane based, Sydney Born rapper Lauren packs a huge punch with a cute twist. Having only released 4 singles she has already made her presence felt in Australia's buzzing Hip-Hop scene as one of the fiercest and hardest female artists in the game.
2019 has been a year short of accolades and wins. Having released 'Move That' that featured in Spotify and Apple playlists such as 'Fresh Finds' (US), 'All Aussie Hip-Hop', New Music Friday and debuting at #1 on 'The New Australia'. As well as national support she also got some international love on radio stations such as Beats 1 Radio from Zane Lowe, Triple J, FBI Radio and 4ZZZ she recently got to showcase her raw talent on Triple J's Bars Of Steel.
Lauren has pushed the boundaries for what is expected live with reviews from her shows stating "She spits like a bad motherfucker". Taking this energy live she toured around Philippines with Bodega Collective and in Australia supported Xavier Wulf, Nerve and after a huge Big Sound things didn't slow down for Lauren who recently just joined the Niche Talent Agency alongside the best acts coming out of Australia right now.
Expect some more music and a project coming out of Camp Lauren for 2020 as she teams up with local crews Bodega Collective, Korky Buchek and No1 Network.
Great Southern Nights is a new event to kick-start the recovery of the live music industry - featuring 1000 COVID safe gigs across Sydney and regional NSW, throughout November 2020 (Australian Music Month). Great Southern Nights is a NSW Government initiative, delivered by Destination NSW in partnership with ARIA. For more information, please visit greatsouthernnights.com.au

TICKETING INFO
- Do not attend if you are feeling unwell
- All audience members will be required to sanitise & check-in upon entry to Waywards.
- Shows will be seated (1.5m apart) and limited to 50 per sitting to allow for social distancing.
- All seats & tables will be wiped down & sanitised between show sessions/sittings.
- Guests must be seated at all times of the show unless moving from one section of the venue to another - i.e toilet, smoking area etc. There is to be no standing and mingling among guests especially between different groups and alcohol can only be consumed by seated customers.
- Drinks can only be ordered through ME&U table service, no need to head to the bar! All tables will have their own ME&U beacon where guests can scan a QR code to view the drinks menu, order & pay as drinks are brought to them.
- Artist to perform two separate sittings, 6:30pm & 9:30pm
- Due to venue seating layout, tickets are only able to be purchased in groups of 4
- Patrons are to promptly leave once the shows have finished to ensure staff are able to sanitise and wipe down all surfaces before the next show.
The venue will be taking a number of precautionary measures to ensure patron safety, including:
- Hand sanitiser dispensers on entry and at tables
- Signage and social distancing markers throughout the venue
- Regular sanitising of the venue and full clean between sittings