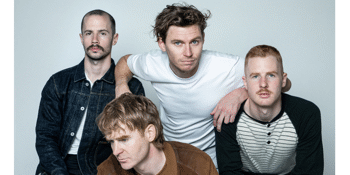 Village Sounds presents
POSTPONED - Mid City
with Special Guests
The Chippo Hotel (Chippendale, NSW)
Friday, 3 July 2020 8:00 pm
MID CITY
's riffs are immediate, their choruses anthemic. Crashing onto the Australian and German music scenes in late 2018, the Melbourne based four-piece are back with their blistering breakup anthem "Forget It".
Inspired by a romantic rupture that ended on very bad terms, the quartet are rapidly building a name for themselves - crafting candid, heart-felt narratives with their hearts on their sleeves. Recorded with Oscar Dawson (Holy Holy, Alex Lahey, Ali Barter), "Forget It" is a devilish musical experimentation - soaked with feverish guitar rhythms, earth-shattering soundscapes and a chorus we dare you to forget.
Lead singer Joel Griffith explains the song is inspired by a case of gaslighting that continued long after the relationship in question was over. "The scary thing was, I ended up gaslighting myself. I'd be telling myself stories that convinced me I can't trust myself, I can't be angry, I can't forget her. That she was right. I kept stoking the desire in myself against my own best interests and it was knotting me up tighter and tighter. This song is as much me shaking myself by the shoulders as it is, hopefully, a story to help others. It's ok to trust yourself. You do know what's best for you."
Forming in Melbourne, the quartet have secured a number of high profile placements across their home country, including a top 10 spot on Australia's leading youth network triple j. "Old Habits" kicked up a stir in Germany in 2019 when TV/podcast star Ollie Shultz shared the track, causing a chain reaction that lead to the song hitting the Viral Top 50 chart on Spotify in Germany, and #15 on their College Radio Charts. With an impressive live reputation already brewing, the group head off on a huge 18 date international tour in 2019 – with 10 heaving, sweaty club shows across Germany, shows in London and across Australia, and packed out shows at BIGSOUND, Reeperbahn Festival and NYE On The Hill.
With support from numerous key international press and radio outlets including Clash Magazine, Flux FM (Germany), triple j, triple j unearthed, and over 3 million streams accumulated across their debut EP Die Waiting, 2020 is set to be a huge year for MID CITY.