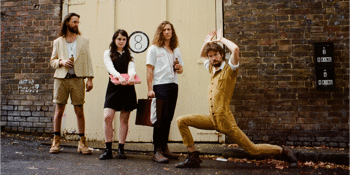 Marilyn Maria
with Euterpe + Life After Football
Waywards (The Bank Hotel) (Newtown, NSW)
Friday, 26 August 2022 8:00 PM
Inner West Post Rock raconteurs Marilyn Maria descend on Waywards to celebrate the release of their sophomore EP "2020 Baby, Pt. 2".

Coming off the back of their sleeper hit debut EP, "2020 Baby, Pt. 1", the band has gone from strength to strength over the last year, bringing their raucous, energetic live show to venues all over Eora/Sydney, most recently supporting Polish Club on the Sydney Leg of their pre-album launch.

Although they have their sights set firmly on the future, "2020 Baby, Pt. 2" arrives with tongue planted firmly in cheek: an overture to the lingering zeitgeist of a post COVID world.