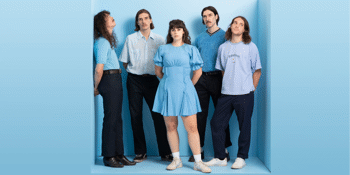 Select Music presents
Georgia June - 'Baby Blue' Tour
with Special Guests
Lansdowne Hotel (Chippendale, NSW)
Saturday, 21 November 2020 9:00 pm
Sydney outfit Georgia June are an infectious force of energy.
The fiercely DIY quintet have had an exciting spiral of live shows, garnering festival billings at; Falls Festival, Bad Friday, Yours and Owls Festival of the Sun and Lost Paradise.
They have also appeared alongside established acts, including Hippo Campus (USA), The Preatures, Lime Cordiale and Ali Barter.
Georgia June are excited to be constructing their sonic, encapsulating experiences of vulnerability and strength. Off the back of their single 'Try Again', 'Baby Blue' is the third, and final instalment from the body of work due later in the year.