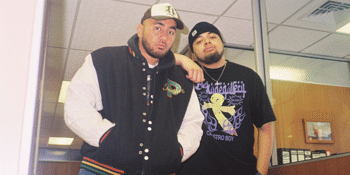 Niche Talent Agency presents
Church & AP
with Special Guests
The Chippo Hotel (Chippendale, NSW)
Saturday, 17 September 2022 8:00 pm
When Auckland duo Church & AP released their debut radio single 'Ready Or Not' in 2018, the Aotearoa hip-hop scene was in the depths of a commercial lull. Buoyed by high-rotation plays on New Zealand's biggest hip-hop and RnB radio station Mai FM and overseas support in the UK on BBC Radio 1xtra via the tastemaking radio presenter and DJ Jamz Supernova, 'Ready Or Not' became a streaming sensation. By the end of summer that year, it was the first New Zealand hip-hop single to achieve a gold certification since David Dallas' 'Runnin', released half a decade earlier.

In the wake of 'Ready Or Not's runaway success, Church & AP were profiled in the UK music media by Dummy Mag and Best of Line Fit, who described them respectively as "taking off" and "on the rise", accolades they delivered on with the release of their first album Teeth, as well as street singles 'War Outside' and 'Fire Sale - Church & AP remix'. These releases were accompanied by trips to the UK, Europe, and the US to record and perform, allowing them to draw inspiration from the scenes which have long nourished them.

In 2020, in recognition of their accomplishments, Church & AP won four Pacific Music Awards (best album, best hip-hop artist, best radio song, and best producer) and Best Hip-Hop Artist at the Aotearoa Music Awards in New Zealand. Alongside these awards, Teeth singles 'Dandelion' and 'Roulette' were supported in New Zealand by Mai FM and Flava FM.

In October of that year, Church and AP released At Thy Feet (Side A), the first half of a two-part album they completed in May 2021 with At Thy Feet (Side B). In the process, they've crafted an infectious combination of jiggy early 2000s rap homages, southern fried soul, drill, and grime, all bent into distinctly local shapes and dusted with coded Auckland vernacular. Since then, they've continued to release a steady stream of charged-up singles and high-concept music videos, challenging themselves creatively with every studio session or shoot.

Both still in their early twenties and staunchly independent, Church & AP exist in the same tradition as the legendary South Auckland pop act OMC of 'How Bizarre' fame, which formed at the Otara Music and Arts Centre. However, instead of South Auckland, Church & AP came together by taking part in local community hall music programs in Auckland's Mount Roskill and Te Atatu suburbs. There, they were tutored by established New Zealand hip-hop and reggae artists, Tom Scott (Avantdale Bowling Club, Homebrew), Melodownz, and Iron Will.

Circa 2022, Church & AP are currently recording their second album Postal at The Church Studios in Woodhill outside of Auckland with assistance from their longstanding producer Dera Meelan and various members of their extended YKK artist collective. As of late, they've been busy touring around New Zealand, performing at festivals including Rolling Meadows, That Weekend, and The Garden Party.