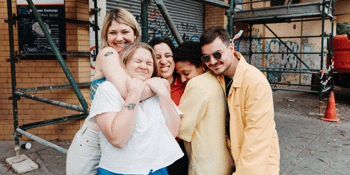 Good Pash - Late Show
with Huck Hastings
Waywards (The Bank Hotel) (Newtown, NSW)
Friday, 4 December 2020 9:30 PM
Good Pash is an indie-punk band from Sydney. Recently formed, the firebrand 5-piece has made a name for themselves in the local scene as one of the most exciting new bands. Good Pash was originally an experiment, a way to test the waters for each member's second instrument, to play shows that are loud, messy and raucous, while still retaining a classic story-teller song style.
New single "Delete Me" is the next taste of their forthcoming new EP and another raucous, upbeat track featuring classic Good Pash story telling, as described below:
"This song is for everyone who has ever had to tear themselves away from something they loved - a job, a friend, a relationship, a drug dependency - that just wasn't working out for them anymore. You fight your mates, your parents, and yourself over it but deep down know that it's no good and have to find the courage to say "I love you, I'm leaving" and let it go." – Good Pash

TICKETING INFO
- Do not attend if you are feeling unwell
- All audience members will be required to sanitise & check-in upon entry to Waywards.
- Shows will be seated (1.5m apart) and limited to 50 per sitting to allow for social distancing.
- All seats & tables will be wiped down & sanitised between show sessions/sittings.
- Guests must be seated at all times of the show unless moving from one section of the venue to another - i.e toilet, smoking area etc. There is to be no standing and mingling among guests especially between different groups and alcohol can only be consumed by seated customers.
- Drinks can only be ordered through ME&U table service, no need to head to the bar! All tables will have their own ME&U beacon where guests can scan a QR code to view the drinks menu, order & pay as drinks are brought to them.
- Artist to perform two separate sittings, 6:30pm & 9:30pm
- Due to venue seating layout, tickets are only able to be purchased in groups of 2's and 4's (subject to availability for both)
- Patrons are to promptly leave once the shows have finished to ensure staff are able to sanitise and wipe down all surfaces before the next show.
The venue will be taking a number of precautionary measures to ensure patron safety, including:
- Hand sanitiser dispensers on entry and at tables
- Signage and social distancing markers throughout the venue
- Regular sanitising of the venue and full clean between sittings