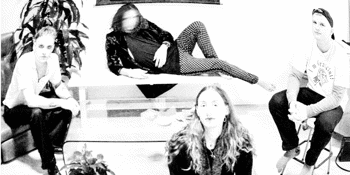 dip
with Romaeo + Brigitte Serhan + Frank The Poet
The Chippo Hotel (Chippendale, NSW)
Saturday, 1 May 2021 8:00 pm
A 4-piece formed in Sydney's inner-west on the fringe of the early 2020 isolation, dip got real dark real quick. A canvas of doomy riffs & erratic heartbeats, noise rock melancholy, sharp synths, visceral poetry and modern mantras.
dip is hustling fast and hard, have sold out every show played so far, playing what's been likened to a theatre show to seated covid audiences, dip has rapidly gained a loyal local following, with a compassionate & cathartic live show, already headlining Sydney's Factory Theatre & playing the iconic Landsdowne.
dip has been described as a Grunge/Post-punk/Art Rock trinity and are an experience of shadow, absurdity & breaking the 4th wall.
On Fire Escape: The chorus is the most absurd line in the song, and last year when we were writing it, the world was in an absurd place, yet pop artists were releasing these inspirational covid singalong videos, that were at total dissonance with how everyone was actually feeling.
Being sick of the big chorus brainwashing hooks that the industry relies on for streams, we like the idea of making our choruses ridiculous mantras that feel real and contain an honest and obscure truth.
TICKETING INFO
Shows will be standing and limited to 70 due to social distancing measures
Artists to perform two separate sittings, 6:30pm & 9:30pm
Upstairs kitchen will be open and running a $15.00 burger + schooner of beer or cider deal for those who have purchased a ticket to the show
All customers entering the premise must sign-in by providing accurate contact details via the venue's QR code sign in registry at the entrance of the venue which is designed specifically for contact tracing if necessary.
The venue will be taking a number of precautionary measures to ensure patron safety, including:
Hand sanitiser dispensers on entry and through venue
Signage and social distancing markers throughout the venue
Regular sanitising of the venue and full clean between sittings