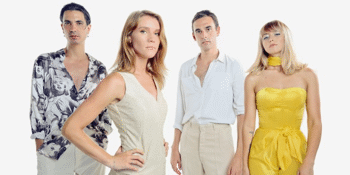 Select Music Presents..
I KNOW LEOPARD - Everything Goes With You National Tour
with World Champion & Baby Beef
Paddo Lounge (Paddington RSL) (Paddington, NSW)
Friday, 8 November 2019 8:00 PM
Sydney's I Know Leopard are returning to the nation's stages to make hearts swell all over again on their 'Everything Goes With You' national tour this November.

This comes hot on the heels of the rapturous response the band received on their 'Love Is A Landmine' Australian tour in earlier this year, launching the long awaited debut album of the same name. That run of shows saw many rooms sell out well in advance, and it was their biggest headline tour to date.
Their glistening, swooning, art pop sound, inspired by the timeless songwriting of ELO, John Lennon and David Bowie has taken them to new heights, helped by massive support from Triple J, community radio and a stack of glowing reviews, staking a claim as one of the most acclaimed local albums released in 2019.

Reactions to Love Is A Landmine

THE MUSIC
"...something seems to have clicked with Love Is A Landmine. The 11 songs here impress as a debut and offer something new without falling into a rose-coloured nostalgia
pool. Warm, catchy and damn near irresistible, just like Heather, it makes us want to get our shit together."

FORTE MAG
"...it was their live show that positioned the group on the Best Band of 2019 throne."

THE AGE / SYDNEY MORNING HERALD
"Love is a Landmine is undeniably brilliant"

FBi Radio (Album Of The Week)
"I Know Leopard craft a glamorous and singular debut with Love Is A Landmine one which you're unlikely to hear matched any time soon."

X-PRESS
"This is a monumental achievement for the group, something not to be overlooked. Love Is A Landmine is something of a masterpiece"