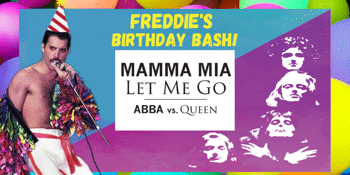 Mamma Mia Let Me Go: Queen Vs ABBA - Freddie's Birthday Bash
Miranda Hotel (Miranda, NSW)
Saturday, 7 September 2019 9:00 PM
From the promoters behind Don't Stop Me Now we present to you 'Mamma Mia - Let Me Go'... FREDDIE'S BIRTHDAY BASH!
We celebrate the birth of the one and only Mr. Freddie Mercury with a Queen heavy playlist containing all the bangers! First 100 people through the door get a free moustache and dress ups are totally encouraged!

The ultimate ABBA vs QUEEN party with DJ's playing ABBA and Queen hits all night long AS WELL AS all the best singalong songs from the likes of Fleetwood Mac, Boney M, AC/DC, Elton John, Toto, Wham!, KC & The Sunshine Band and more!
As we've previously sold-out Melbourne, Canberra, Sydney, Brisbane and Newcastle in advance we strongly recommend purchasing tickets early.

Miranda Hotel - Saturday 7th September - 9pm - 3am