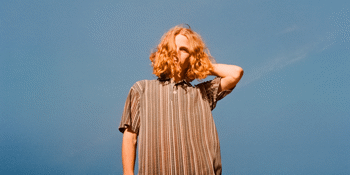 Aloe Vera - Late Show
with Lux Trevis
The Chippo Hotel (Chippendale, NSW)
Friday, 29 January 2021 9:30 pm
Aloe Vera is the new project by Harry Barwell, a multi-instrumentalist, songwriter and producer from Sydney. The dreamy indie pop songs find themselves engulfed in introspective thoughts and reflections, evoking reminiscence and nostalgia like looking into a sepia toned photograph.

With summer having just arrived, Aloe Vera's debut EP 'Escapism' couldn't have come at a better time. Elated by soothing vocals and dream pop swirls, Escapism presents a journey through one's mind, from wanting to be less uptight, to struggling with change, through to moving on and accepting these changes in life. "The EP is a way of letting go and a means of escaping from the intensity of life."

Come and escape with Aloe Vera…

"Delicate drifting music from the artist. Those vocals put you in the zen zone." – Dave Ruby Howe.

"This track built up the imagery of a sleepy coastal town in sepia tones for me. The harmonies in the chorus made a snug cocoon around the simple instrumental arrangement making it a very cozy listen." – Lu Whites.


TICKETING INFO
- Do not attend if you are feeling unwell
- Shows will be seated and limited to 35 per sitting, patrons will be seated to allow for social distancing. There will be select seating in accordance with the venue's Covid Safe Plan with a 1.5m distance between groups. Guests must be seated at all times of the show unless moving from one section of the venue to another - i.e the bar, toilet, smoking area etc. There is to be no standing and mingling among guests especially between different groups and alcohol can only be consumed by seated customers.
- Artist to perform two separate sittings, 6:30pm & 9:30pm
- Upstairs kitchen will be open and running a $15.00 burger + schooner of beer or cider deal for those who have purchased a ticket to the show. Present your ticket to the bar staff when ordering to redeem.
- Tickets will need to be pre-purchased due to Covid -19 capacity restrictions and select seating arrangements enforced by the venue in order to comply with Covid safety measures and to ensure guests are protected and are as safe as possible at all times. All customers entering the premise must sign-in by providing accurate contact details via the venue's QR code sign in registry at the entrance of the venue which is designed specifically for contact tracing if necessary.
- Tickets will need to be purchased as a minimum of 2 pax to assist with venue seating plans and if you wish to be seated in a group with friends who have purchased tickets separately you will need to email the names of your group to hello@thechippohotel.com.au
NOTE: Groups cannot exceed 10 people.
The venue will be taking a number of precautionary measures to ensure patron safety, including:
- Hand sanitiser dispensers on entry and at tables
- Signage and social distancing markers throughout the venue
- Regular sanitising of the venue and full clean between sittings