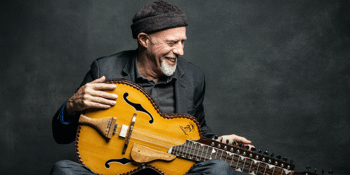 The Great Club Presents
Harry Manx
The Great Club (Marrickville, NSW)
Sunday, 23 October 2022 6:00 pm
"Deliciously addictive", The New York Times
Seven time Maple Blues award winner, Folk Artist of the Year, Songwriter of the Year, six Juno nominations.....welcome to the Harry Zone. English born Canadian Harry Manx plays a unique style of music which is sometimes known as "Mysticssippi" for his melding of Blues and Indian Classical melodies. Harry delivers his live show with a variety of stringed instruments including the Mohan Veena (Indian slide guitar), drums, guitars, banjo & harmonica. Musically Harry lives where the depth of Indian music meets the deep groove of the Blues.
Downbeat Magazine said that "Manx's real talent lies in creating a place where Blues and Indian Classical are a seamless fit".
Billboard Magazine called Harry "Canada's most expressive Blues player".
"Watching Harry play tonight I feel like I learned something new …. " Bruce Springsteen
Doors Open 8PM
Thirsty? Our front bar opens at 6pm for a pre-show beverage!
Enter Yia Yia's Dive Bar via 42 Stanley Street.