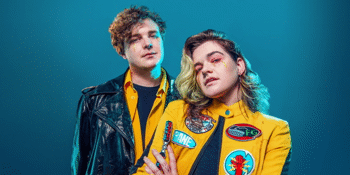 Select Music and Future Popes presents
Cry Club- 'People Like Me' Tour
with Daphzie + PEPTALK
Waywards (The Bank Hotel) (Newtown, NSW)
Friday, 8 July 2022 8:00 pm
Select Music & Future Popes Present..
Cry Club
People Like Me Tour
With Daphzie + PEPTALK

Cry Club are back with a brand new single, 'People Like Me' and they're celebrating with an East Coast tour, visiting Brisbane, Sydney, Wollongong, and Melbourne.

Described as "Rage Against the Machine with cheerleaders", 'People Like Me' is an all-out rock anthem about the exhaustion of having to be sweet and kind to garner respect and prove yourself to as an equal. Fresh off tour with Electic Fields, Cry Club are excited to be playing their very own headline shows in support of this new single.

Tickets for the 'People Like Me' single tour are on sale now.