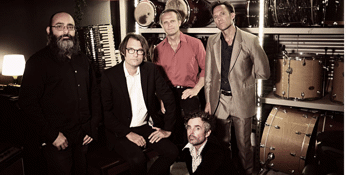 Mother Hen Touring
Ramblin' Nights w/ Mark Moldre
Kate Alexander & Hana Brenecki
Thursday, 5 September 2019 8:00 pm
We are back in September for another round of Ramblin' Nights with Mark Moldre launching his new album Fever Dreams with Kate Alexander & Kate Brenecki making the trip up from Melbourne to open the night with their mind blowing harmonies.
NSW songwriter and musician Mark Moldre has just released his third solo album 'Fever Dreams', the follow-up to his 2013 release – 'An Ear To The Earth'.
Moldre returned to the studio with the very same line-up and walked out with an album that captures the same sense of magic and mayhem, this time woven into a looser rock 'n' roll aesthetic. That same band (including Jamie Hutchings on guitar) will be gracing the Sly Fox stage with Moldre to launch the album.
'Fever Dreams' contains some genre-hopping sonic bedlam, fractured Americana-hued ballads, jazz-tinged standards and ramshackle/rollicking noir blues. Lyrically there are twisted tales set in ever-shifting Australian landscapes, perfectly complemented by his accomplished, tough and tender guitar playing that draws on both traditional and more exploratory forms of folk, jazz, and blues.
In Bernard Zuel's review of the album he references woozy country ballads, ramshackle can-rattlers and mid-60s Dylan electric blues that create "a sense of a zig-zagging journey". Jeff Jenkins, for The Music, described it as "hypnotic, rollicking and restless. Fans of Tom Waits, Nick Cave and Dylan should immediately investigate."
Kate Alexander & Hana Brenecki have just released their debut album called 'Don't You Have Better Things To Do' which is earning a lot of attention for these ladies, with their exceptional harmonies combined with occasional added grunge guitar sounds. They have a broad love of many eras and genres of music, from country to classic 50's and 60's pop. To compare their harmonies to the Everly Brothers is certainly not a stretch.
Their sound is smouldering and assured, and we are very excited to have them open the September Ramblin' Nights