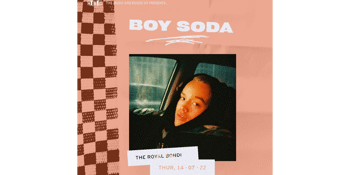 The Music and Booze Co presents...
Boy Soda
The Royal Bondi (Bondi, NSW)
Thursday, 14 July 2022 8:00 PM
The Music and Booze Co presents...
Boy Soda | The Royal Bondi
Thursday July 14
Free Entry, 8pm

BOY SODA
The 22-year-old singer, songwriter and producer birthed the BOY SODA project in his hometown of Terrigal, Central Coast, and much like the vast majority of creatives emerging in the internet age, the young artist has found himself virtually unencumbered by his physical locality.

Since opening for Dominic Fike in LA at the official Camp Flog Gnaw x Converse pop-up event at the end of 2019, BOY SODA has released a handful of singles - the double A-Side 'Take Your Time/See Someone' & 'Daisy Chain'. These tracks garnered attention from tastemaker publications Acclaim, Filterzine and Life Without Andy, alongside support from triple j unearthed and FBi Radio, noting the seamless intertwining of the golden era of 2000s R&B with his own percussive melodies and velvet vocals.
Newly immersing himself in Sydney's burgeoning R&B and hip-hop community, BOY SODA was introduced to a world of creatives resulting in collaborations with Korky Buchek, Domba The Producer and Liyah Knight, amongst others.