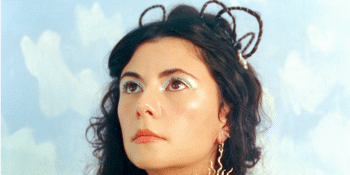 Waywards (The Bank Hotel) (Newtown, NSW)
Thursday, 29 April 2021 8:00 PM
"The wolf that howls for none and all..."

With every breath of her commanding and powerful voice, Indira strips herself bare. She crumbles the walls between artist and audience with playful intimacy. Carefully sculpting songs and guiding her band, Elias is at once artist and muse, imbuing deep poetic sentiment into her work.

Australian born, of Lebanese, Filipino, Spanish and Portuguese heritage, Indira embodies a uniquely modern collision of ancient knowings and traditions. She fuses genre and sound in much the same way, drawing inspiration from myriad places with tender care. Cinematic soundscapes, painted in folk-noir, create a haunting and ethereal collection of songs that speak the language of mythology and fables. Utterly devoted to the details in her composition, arrangement, production and recording, Indira carves her songs with precision.

While studying to be a pastry chef in Paris, Indira nurtured her musical sensibility in underground open-mics. Here, between jazz caves and piping choux, she grew into womanhood, filling piles of notebooks with poems and stories and singing them through the evenings. The beauty of the streets and the distance from home permitted her expression to unfold without expectation, and the resulting songs are a remarkable testament to this process. These tracks make up the first half of her two part album, Songs from a Moon//Songs by the Sun- the second half written after returning to Australia.

Now finding herself part of a tight-knit community of dedicated artists in Sydney, collaboration and community have become integral to Indira's creative process. Her band, a collection of incredibly talented musicians from varied musical backgrounds, inspires and encourages her to create dramatic visions of other-worldly scenes. Indira leads her opulent ensemble, makes her own stage costumes, directs music videos, composes, arranges, engineers and produces her music with impressive care and attention to detail, colour, style and space.

In the footsteps of Joni Mitchell and Leonard Cohen before her, Indira began away from music, in writing and poetry. Discovering the works of Emily Dickinson at age 16 was a pivotal revelation, focusing Indira's purpose and influencing her world view. Her youth, spent in the luscious hinterland of Australia's East coast, firmly connected her to nature. Growing up with an artist mother and sisters amongst rolling hills and fields gave rise to a childhood that fostered reflection and intuition, two prominent features of her work.

"My parents raised us to breathe and create from the same sense. Connecting to nature - her seasons and movements - to nurture one's intuition is incredibly important in these processes. It grounds you in a context beyond language and phenomenon, and exposes the threads of our collective stories; to weave our tapestries and stitch ourselves together."
TICKETING INFO
- Do not attend if you are feeling unwell
- All audience members will be required to sanitise & check-in upon entry to Waywards.
- Shows will be limited to 62 per sitting to allow for social distancing.
- Artist to perform two separate sessions, 6:30pm & 9:30pm
- Patrons are to promptly leave once the shows have finished to ensure staff are able to sanitise and wipe down all surfaces before the next show.
The venue will be taking a number of precautionary measures to ensure patron safety, including:
- Hand sanitiser dispensers on entry and throughout venue
- Signage and social distancing markers throughout the venue
- Regular sanitising of the venue and full clean between sittings