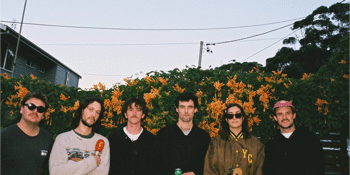 Great Southern Nights in association with WME present
Kitten Heel - Late Show
with Special Guests
Waywards (The Bank Hotel) (Newtown, NSW)
Saturday, 21 November 2020 9:30 pm
Kitten Heel are an audacious dance-rock band. Having been developed over a number of years in Wollongong, music makers Jareth Leslie-Evans and Jourdain Vitiello gather a group of four friends to join them on stage.
After the self-release of their debut single Peephole Gallery in April 2019, the group would go on and play a number of shows up-and-down the east coast until the release of their debut EP CLUB DUST in February 2020. With no plan to slow down, this persistent lot intend to release their sophomore EP I Love You Too, Man in November 2020.
Their sound may herald comparisons but fits right within its own detailed space between then and now. Their songs are made up of poppy sequencers and slappy drums, with riffy baselines and cutting vocals. It's in essence a project about movement. It's mildly hypotonic and unconventionally shifty.
The band will attract the curious eye. With a solid critical reception, they've seen their material beamed over airwaves far and wide. Notably on L.A's KRCW, as well as Triple J and FBi here in Oz.
Great Southern Nights is a new event to kick-start the recovery of the live music industry - featuring 1000 COVID safe gigs across Sydney and regional NSW, throughout November 2020 (Australian Music Month). Great Southern Nights is a NSW Government initiative, delivered by Destination NSW in partnership with ARIA. For more information, please visit greatsouthernnights.com.au
TICKETING INFO
- Do not attend if you are feeling unwell
- All audience members will be required to sanitise & check-in upon entry to Waywards.
- Shows will be seated (1.5m apart) and limited to 50 per sitting to allow for social distancing.
- All seats & tables will be wiped down & sanitised between show sessions/sittings.
- Guests must be seated at all times of the show unless moving from one section of the venue to another - i.e toilet, smoking area etc. There is to be no standing and mingling among guests especially between different groups and alcohol can only be consumed by seated customers.
- Drinks can only be ordered through ME&U table service, no need to head to the bar! All tables will have their own ME&U beacon where guests can scan a QR code to view the drinks menu, order & pay as drinks are brought to them.
- Artist to perform two separate sittings, 6:30pm & 9:30pm
- Due to venue seating layout, tickets are only able to be purchased in groups of 4
- Patrons are to promptly leave once the shows have finished to ensure staff are able to sanitise and wipe down all surfaces before the next show.
The venue will be taking a number of precautionary measures to ensure patron safety, including:
- Hand sanitiser dispensers on entry and at tables
- Signage and social distancing markers throughout the venue
- Regular sanitising of the venue and full clean between sittings