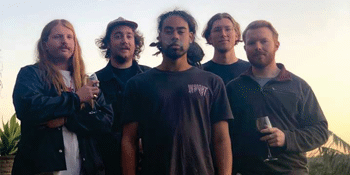 The Music & Booze Co.
Sketchy Fancy
BRIEZERS + MVRKS + Jordan Kenny Band
Miranda Hotel (Miranda, NSW)
Friday, 13 September 2019 8:30 PM
Born from the desire to explore and perform, Sketchy Fancy carve sprays of raucous delight. Their collective experience of providing soul-filled thrills and hard-driven riffs has culminated in debut album Good.Bad.Happy.Sad. A lucid ride through dreamy collections and heavy Zeppelins through to Super Nintendo and wasted days, this five piece from South Sydney bring contemporary psychedelica into focus for the working class. Pub rock in Palace City.

These tight five watched each other play for years before hearing the call and seizing opportunity in early 2018. Their debut singles Butterfly Bonfire and The Rebel have been well recieved, garnering support form Sydney's leading alternative broadcaster FBi and landing them the support for major touring act Caravana Sun. They've made headway playing shows up and down the NSW coast and are taping more records soon. You'll hear bustling energy and sedated haze. Mixing good with bad. Happy and Sad. Taking in the common with the absurd, Sketchy Fancy exuberantly use the worst and revive with the best.