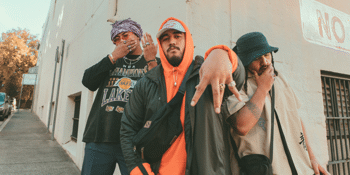 Great Southern Nights in association with The Harbour Agency present
Planet Vegeta - Late Show
with Special Guests
The Chippo Hotel (Chippendale, NSW)
Saturday, 28 November 2020 9:30 pm
Built on a foundation of brotherhood and a shared love of old school sounds and the new, Sydney's Planet Vegeta emerge bristling with confidence and excitement - ready to steer the city's hip-hop/R&B scene in a new direction.
In their own right, the trio of LKGD, SVNO and Jazz NOBDI are talented wordsmiths and producers, LKGD and SVNO both elevating their skills writing across a number of Sydney project, while Jazz's talent as a lyricist has flourished throughout 2019.
First meeting in 2011, LKGD and SVNO were quick to connect and develop a creative partnership, with Jazz capturing their attention in 2017. In the three years to follow, Planet Vegeta has formed for itself a defined sound comprising hip-hop, electric soul, R&B and indie sensibilities.
With all three of the boys growing up in Samoan houses-holds in New Zealand and in The Western Suburbs of Sydney, they were surrounded by music from a young age and submerged themselves in the music culture the second they had the ability to hear.
Whether it was listening to soul and gospel in the church or jamming out back at home to old school Hip-Hop and R&B songs with their families, the boys lived a life where music brought the best out of people and more importantly brought people together.
"You could never escape a day without singing a song together even if you didn't know how to. Us Polynesians love our music and for anyone who knows us, they would tell you the same thing."
LKGD

The boys began their music journey from a young age taking influence from various artists of all different genres. SVNO's soul and funk can be seen his some of his influences such as Jamie Foxx, Kirk Franklin and Prince, whilst Jazz's influences can be seen in the likes of Biggie, Andre 3000 and Wu-Tang Clan who are known for their lyricism and flow which is evident is Jazz's wordplay and line delivery.
LKGD being the main producer of the trio has a wide variety of influences of all genres. Such as Pharrell who is known for his funky yet creative production but also taking heavy influence from Michael Jackson because of his unique sound and ability to make steer away from making the same style track.
"We all have different influences, how we've grown up and who we listen to. Everyone has their own unique taste in music. We all come from different musical backgrounds and I think that's what makes us unique; you can hear it in our music. Every person who we've played our music to, they can't really put their finger on it. It's a big sound."
PLANET VEGETA
Releasing a one-two punch of singles in 2019 in 'Billy Jackson' and 'Drama', Planet Vegeta quickly caught the attention of triple j Unearthed and community radio. On the live front, the trio have been impressing on home turf and in Brisbane, performing at BIGSOUND for the first time as part of The New Wave showcase.
"Slicker than your average! That voice. Those fluttering keys. I'm paying attention."
TRIPLE J UNEARTHED, DAVE RUBY HOWE
Priding themselves on delivering the most finessed and refined version of their craft with each release, the Planet Vegeta creative dynamic has strengthened through 2019, with the group preparing their debut EP. With two singles already out and more music to come before the year is out, Planet Vegeta are riding the wave of successful session after successful session.
When the vibe is right, don't question it. "We complement each other so well and we have had that chemistry from the get-go. We're not trying to force
anything, everyone knows. It's real easy to make music. Sometimes we'll have a session where we bump out five songs in four or three hours. It'll be organic, I think that's special. We've done sessions for heaps of artists and have written for others; when it comes to our music, it's second nature."
PLANET VEGETA

Great Southern Nights is a new event to kick-start the recovery of the live music industry - featuring 1000 COVID safe gigs across Sydney and regional NSW, throughout November 2020 (Australian Music Month). Great Southern Nights is a NSW Government initiative, delivered by Destination NSW in partnership with ARIA. For more information, please visit greatsouthernnights.com.au
TICKETING INFO
- Do not attend if you are feeling unwell
- Shows will be seated and limited to 25 per sitting, patrons will be seated to allow for social distancing. There will be select seating in accordance with the venue's Covid Safe Plan with a 1.5m distance between groups. Guests must be seated at all times of the show unless moving from one section of the venue to another - i.e the bar, toilet, smoking area etc. There is to be no standing and mingling among guests especially between different groups and alcohol can only be consumed by seated customers.
- Artist to perform two separate sittings, 6:30pm & 9:30pm
- Upstairs kitchen will be open and running a $15.00 burger + schooner of beer or cider deal for those who have purchased a ticket to the show. Present your ticket to the bar staff when ordering to redeem.
- Tickets will need to be pre-purchased due to Covid -19 capacity restrictions and select seating arrangements enforced by the venue in order to comply with Covid safety measures and to ensure guests are protected and are as safe as possible at all times. All customers entering the premise must sign-in by providing accurate contact details via the venue's QR code sign in registry at the entrance of the venue which is designed specifically for contact tracing if necessary.
- Tickets will need to be purchased as a minimum of 2 pax to assist with venue seating plans and if you wish to be seated in a group with friends who have purchased tickets separately you will need to email the names of your group to hello@thechippohotel.com.au
NOTE: Groups cannot exceed 10 people.
The venue will be taking a number of precautionary measures to ensure patron safety, including:
- Hand sanitiser dispensers on entry and at tables
- Signage and social distancing markers throughout the venue
- Regular sanitising of the venue and full clean between sittings