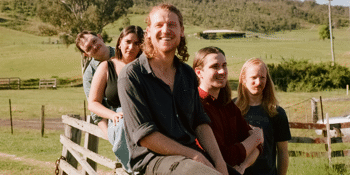 Big Dog - Late Show
with Grids & Dots
Waywards (The Bank Hotel) (Newtown, NSW)
Thursday, 25 March 2021 9:30 pm
Sydney country-shoegaze collective Big Dog chart the dreamier recesses of the psyche with sounds bathed in the warm glow of friendship and the pure pleasure of performance.
Comprising Shane Byrnes on lead guitar, vocals, and bass; Sam Kluge (ex-The Mothers Club) on rhythm guitar and bass; Mark Whittaker (ex- Hopes, Central West) on lead guitar, bass, and vocals; Netta Mae on vocals, acoustic guitar, synths, and bassoon, and drummer Simon Metcalfe, Big Dog is a testament to the unquantifiable alchemy that results from a group of friends embarking upon a shared a creative revelry.
Big Dog draws inspiration from a host of stellar sources: Shane's love of Townes Van Zandt and the raw immediacy of blues greats including Freddy King finding a ready home alongside Sam's admiration of dark country iconoclast Orville Peck and triple-guitar peers Rolling Blackouts Coastal Fever, and Mark's love of Mazzy Star and shoegaze legends from My Bloody Valentine to Slowdive—while Netta draws from the same oft-shadowy wellspring as singer-songwriters from Neko Case to Sarah Shook to Phoebe Bridgers.
Big Dog is a true meeting of minds—encompassing a formidable lineup of three guitarists, three songwriters, and three lead vocalists. More than the sum of its parts, Big Dog is a band of ineffably Australian resonance and authenticity.
A deeply sympathetic marriage of pedal-and-gear experimentation, the obsessive search for new tones and sounds, and earthy playing and songwriting thrills at the heart of Big Dog's incomparable sound.
TICKETING INFO
- Do not attend if you are feeling unwell
- All audience members will be required to sanitise & check-in upon entry to Waywards.
- Shows will be seated (1.5m apart) and limited to 46 per sitting to allow for social distancing.
- All seats & tables will be wiped down & sanitised between show sessions/sittings.
- Guests must be seated at all times of the show unless moving from one section of the venue to another - i.e toilet, smoking area etc. There is to be no standing and mingling among guests especially between different groups and alcohol can only be consumed by seated customers.
- Drinks can only be ordered through ME&U table service, no need to head to the bar! All tables will have their own ME&U beacon where guests can scan a QR code to view the drinks menu, order & pay as drinks are brought to them.
- Artist to perform two separate sittings, 6:30pm & 9:30pm
- Due to venue seating layout, tickets are only able to be purchased in groups of 2 or 4 (subject to availability for both)
- Patrons are to promptly leave once the shows have finished to ensure staff are able to sanitise and wipe down all surfaces before the next show.
The venue will be taking a number of precautionary measures to ensure patron safety, including:
- Hand sanitiser dispensers on entry and at tables
- Signage and social distancing markers throughout the venue
- Regular sanitising of the venue and full clean between sittings