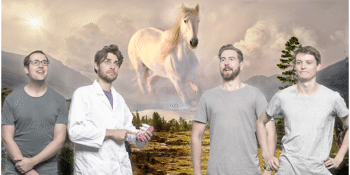 WAWAWOW - Early Show
with special guests
Waywards (The Bank Hotel) (Newtown, NSW)
Saturday, 20 November 2021 6:30 PM
Following their critically acclaimed 2020 debut LP Pink Elephant which reached the top of 2SER's Favourite Releases of 2020, Sydney's psych-junk outfit WAWAWOW are back with brand new material and a fully revamped live show.
WAWAWOW have a name to suit the magic – it's half jam, half Tetris. Carved out of the itches of four frustrated instrumentalists, the group evolved from a like-this-but-weirder attitude to something eccentrically rectangular, with a sound described as "a data-driven Thee Oh Sees for kids that keep their shirt on".
With a bent, frenzied view of the psych-rock genre, WAWAWOW combine jittery synth with sporadic B-52s style vocals and absurdly indulgent guitars. The four-piece alternate between rhythmic refrain and fuzzy overkill, using pudgy effects to create a "cheeky, trippy, and delightfully screwy" feel, like if Charles Mingus covered The Strokes. Blacklights, glowing drumsticks and triggered rope lights add to the band's praised live show, with a non-stop monolithic performance that has been electrifying Australian audiences over the last few years.
WAWAWOW are throwing out a "big, eccentric sound that Sydney will surely be hearing a lot more from." Dig it now and dig it fast.

TICKETING INFO
Do not attend if you are feeling unwell
All audience members will be required to sanitise & check-in upon entry to Waywards.
Shows will be standing and limited to 50 per session to comply with Public Health Order requirements
All patrons must be fully vaccinated and be able to display proof of vaccination upon entry
The venue will be taking a number of precautionary measures to ensure patron safety, including:
Hand sanitiser dispensers on entry and throughout venue
Signage and social distancing markers throughout the venue
Regular sanitising of the venue and full clean after each day.