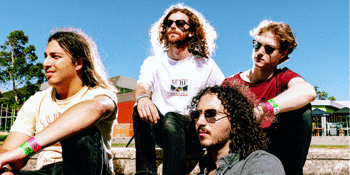 Before The King
with Maisie's Vacation + I Know You Know
The Chippo Hotel (Chippendale, NSW)
Saturday, 22 May 2021 8:00 PM
Before the King are four shaggy-haired, fun-loving lads from Sydney's inner west, with the summery sounds of early 2000's indie rock flowing through their musical veins. Formed in 2015, the band have had plenty of time to hone in on, and fine-tune their craft. For all this hard work, Before the King are now at the point where they can comfortably pump out indie rock bangers with their eyes closed. From ambitious social media campaigns attracting the likes of industry-guru Damien Keyes, to having their very own burrito named after them by Newtown's Beach Burrito, Before the King are always moving. With three singles on Spotify, and countless gigs under their belt, 2021 is shaping up to be their most ambitious year yet...
TICKETING INFO
Shows will be standing and limited to 70 due to social distancing measures
Upstairs kitchen will be open and running a $15.00 burger + schooner of beer or cider deal for those who have purchased a ticket to the show
All customers entering the premise must sign-in by providing accurate contact details via the venue's QR code sign in registry at the entrance of the venue which is designed specifically for contact tracing if necessary.
The venue will be taking a number of precautionary measures to ensure patron safety, including:
Hand sanitiser dispensers on entry and through venue
Signage and social distancing markers throughout the venue
Regular sanitising of the venue and full clean between sittings