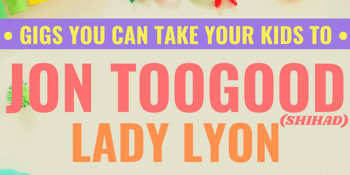 Small Fry Rock feat. Jon Toogood (Shihad)
Lady Lyon
The Great Club (Marrickville, NSW)
Saturday, 3 September 2022 11:30 AM
SMALL FRY ROCK - Gigs you can take your kids to!
Featuring JON TOOGOOD (Shihad)
Supported by LADY LYON
Designed for music loving families who want to introduce their small fries to music they know and love. Family friendly and covid safe! 
Doors 1130am. Music from midday. Wrapped by 130pm.
Jon Toogood is the founding member of two bands (Shihad and The Adults), a solo artist, multi- instrumentalist, radio presenter, mentor, theatre performer and voiceover artist.
Forming over 30 years ago in Wellington New Zealand, Shihad has become one of NZ's most loved, respected and successful exports.
Lady Lyon writes their songs like they make love. Pure, Threatening, Sumptuous nostalgia for the heart that will linger in you long after your feet stop the inevitable two step. Cowgirl Blues at its finest.

Bistro menu and pram parking available at the venue.
See you on the dance floor!
Doors Open 8PM
Thirsty? Our front bar opens at 6pm for a pre-show beverage!
Enter Yia Yia's Dive Bar via 42 Stanley Street.