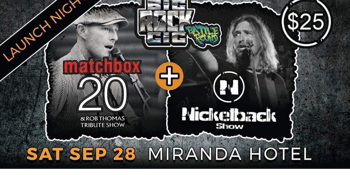 The Launch Squad
BIG ROCK GIG - BATTLE ROUND #1
The Nickelback Show + The Matchbox 20 & Rob Thomas Tribute Show
Miranda Hotel (Miranda, NSW)
Saturday, 28 September 2019 8:00 PM
What's better than seeing your favourite band on stage?
Seeing two of them on the same stage on the same night, right?
BIG ROCK GIG is a series of live events that will put together tributes to two of the world's largest bands, on the same stage, once a month right here at Miranda Hotel.
Why BIG ROCK GIG? Lets keep it simple yeah?
This is a night for the fans of rock n roll in the Shite to converge en masse upon the Miranda Hotel, giving you the opportunity to get those devils horns 🤘 🤘 raised and those air guitars out, and our first BATTLE ROUND event is going to be HUGE!
We have two of the biggest and enigmatic bands from the late 90s battling it out on stage over one massive night of rock n roll. Where the at the end of the night is YOU.
A Double Header With Your Favourite Classics.
No jokes, nah F$$k it, all jokes are ON the table, what's a good rock show without some tongue in cheek good humour and fun!
The Nickelback Show is an all out, balls to the wall, 2 hour show that encapsulates the massive success of the band.
With worldwide hits such as "How you Remind me" - "Figured You Out" –"Photograph" - "Burn It To The Ground" and more.
Despite the fashionable dislike of the band, Nickelback continue to sell out stadiums both here and overseas with a huge following around the globe.
The Matchbox 20 & Rob Thomas Tribute Show
Hot on the heels of a sold out show at The Brass Monkey The Matchbox 20 & Rob Thomas Tribute Show recreates a truly incredible live show that will leave you amazed.
Passionately delivering the classic songs ' 3 AM ' to ' Real World ' to 'Long Day' along with collaboration 'Smooth' with Santana, and up to Rob Thomas' 2019 solo effort 'One Less Day'>
Matchbox Twenty is recognised internationally as one of the most popular and successful bands to emerge since the late 1990's, and the music of Matchbox Twenty is represented here with an amazing lineup of singers & musicians guaranteed to be an incredible experience.