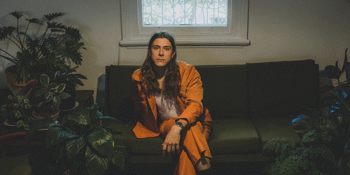 The Harbour Agency presents
Butter Bath - Late Show
with Special Guests
The Chippo Hotel (Chippendale, NSW)
Saturday, 20 March 2021 9:30 PM
Straddling the unlikely gap between indie rock and soul, singer/songwriter, multi-instrumentalist and producer, Toby Anagnostis delivers his conversations about self-assessment, love and spirituality under the moniker of Butter Bath.
With the momentum of 5 single releases fanning the flames, the Sydney based artist will release his debut EP, Spectator, on the 19th of Feb through Nice Guys Records. The EP will be launched at The Chippo Hotel (Sydney) on the 20th of March and Vinegar Hill (Newcastle) on the 21st of March.
Butter Bath's debut EP, Spectator, is an annotation of the past 18 months of Toby's life as the intricacies of adolescence becomes peripheral and the full-bodied form of adulthood starts to take shape. The 6 track EP is charged with lyrical irony and is laced with hazy guitars over soul-infused rhythm sections. It emphasises the notion of being content with not understanding in the wake of life's complexities.
For Toby, the songwriting and production process is an insular practice of layering drum grooves, honeyed vocals and 80s inspired synths in his bedroom studio. He is joined on stage by 4 friends to recreate the dense psych-pop sheen that characterise Butter Bath's sound.

TICKETING INFO
- Do not attend if you are feeling unwell
- Shows will be seated and limited to 35 per sitting, patrons will be seated to allow for social distancing. There will be select seating in accordance with the venue's Covid Safe Plan with a 1.5m distance between groups. Guests must be seated at all times of the show unless moving from one section of the venue to another - i.e the bar, toilet, smoking area etc. There is to be no standing and mingling among guests especially between different groups and alcohol can only be consumed by seated customers.
- Artist to perform two separate sittings, 6:30pm & 9:30pm
- Upstairs kitchen will be open and running a $15.00 burger + schooner of beer or cider deal for those who have purchased a ticket to the show. Present your ticket to the bar staff when ordering to redeem.
- Tickets will need to be pre-purchased due to Covid -19 capacity restrictions and select seating arrangements enforced by the venue in order to comply with Covid safety measures and to ensure guests are protected and are as safe as possible at all times. All customers entering the premise must sign-in by providing accurate contact details via the venue's QR code sign in registry at the entrance of the venue which is designed specifically for contact tracing if necessary.
- Tickets will need to be purchased as a minimum of 2 pax to assist with venue seating plans and if you wish to be seated in a group with friends who have purchased tickets separately you will need to email the names of your group to hello@thechippohotel.com.au
NOTE: Groups cannot exceed 10 people.
The venue will be taking a number of precautionary measures to ensure patron safety, including:
- Hand sanitiser dispensers on entry and at tables
- Signage and social distancing markers throughout the venue
- Regular sanitising of the venue and full clean between sittings